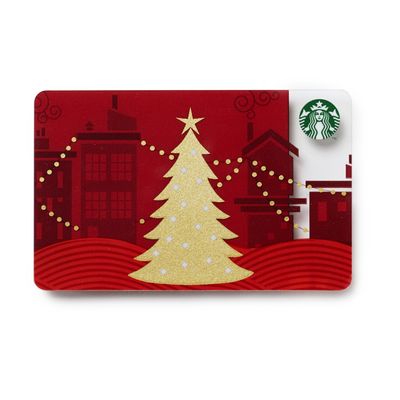 The trick is figuring out how to buy exactly $25 worth of coffee.
It's not like you need anything official to let you know that there's a very good chance you will be either getting, or giving, a Starbucks gift card at some point in the next couple of weeks. They are easy, and cheap, and they're just the kind of thing you buy when you realize you forgot to get a gift for that person you know but don't really like all that much.
Even still, this stat is somewhat impressive: The coffee chain sends word that they anticipate a record-breaking Christmas Eve this year — better than 2013, in fact, when last-minute shoppers in the U.S. and Canada bought 2 million gift cards in a single day. (That's about 1,400 cards per minute over the course of 24 hours.) The chain says 1 in every 8 American adults got some kind of Starbucks gift card last year, though, which means you're going to have to track down one of those gold coffee-for-life cards if you really want your present to stand out from everyone else's.
Related: Why Yes, There Are $5,000 Solid-Gold Starbucks Cards