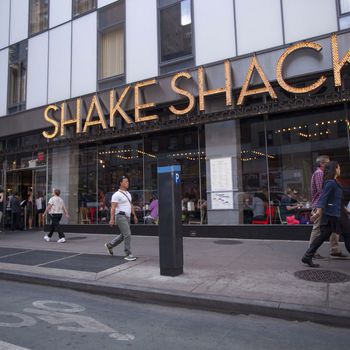 Hitting the big time.
Photo: Michael Nagle/Bloomberg via Getty Images
Danny Meyer's quest for global domination continues apace today as Shake Shack officially files with the SEC for its promised initial public offering of stock on the New York Stock Exchange. Dig through the official documents and you will learn more than you ever wanted to know about one of America's most beloved burger chains. Shacks bring in an average of $5 million per year in sales (Manhattan locations average $7.4 million; non-Manhattan outposts average $3.8 million), but the main takeaway: Shake Shack is killing it.
The part that most stood out for Grub, so far, comes in a note to prospective stockholders from Meyer and Shack CEO Randy Garutti, in which they reveal the "pretty bad" names they debated giving their original Shack kiosk, such as Custard's First Stand, Dog Run, or Madison Mixer. (They made the right choice.)
Anyway, according to the documents, the team plans to keep on opening Shacks in both the U.S. and abroad, they're capping the stock offerings at $100 million, and they'd like to use the ticker symbol SHAK.