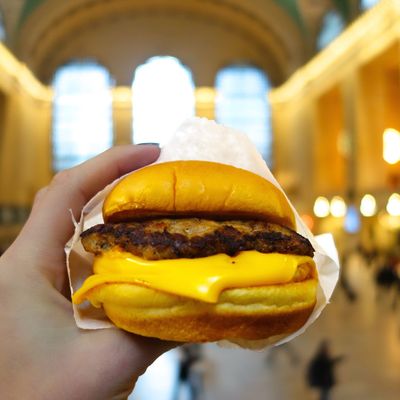 We're totally onboard.
Photo: Shake Shack
Danny Meyer's ever-expanding hamburger chain is now offering three breakfast sandwiches at its Grand Central Terminal location. They include:
• Sausage, Egg N' Cheese
• Bacon, Egg N' Cheese
• Egg N' Cheese
The first two cost $4.75, and the meatless version is $3.75. The menu is available from 7 a.m. to 10:30 a.m. on weekdays only. The sausage is Niman Ranch, the bacon is applewood smoked, the bread is a potato roll, and the cheese is American. The chainlet now also has a selection of Fair Trade teas and is pouring a Stumptown "Shack" blend.
This is the first time Shake Shack has offered breakfast outside of its two locations at JFK airport, but we're pretty sure it won't be the last.
Related: Manhattan Takes Its Next Step Toward Becoming One Enormous Shake Shack Line
[Official site]