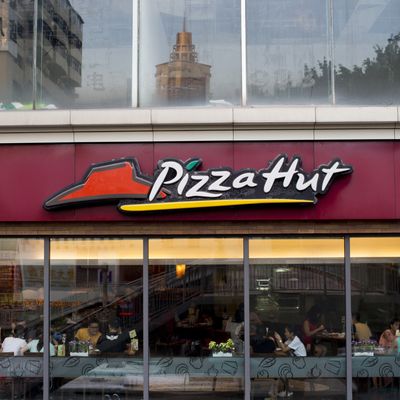 That location may have yet another new opening.
Photo: Brent Lewin/Bloomberg via Getty Images
A Pizza Hut in Surrey, England, took out a chipper ad on British free classifieds site Gumtree looking for "decent, good-looking girls" to greet customers the hard way. The franchise also specified that the job was full-time, but did not mention whether qualified candidates would be subjected to other forms of sexism.
Perhaps tellingly, the ad stayed online three weeks before anyone noticed and complained to the U.K. corporate office. The corporate office quickly called it "an individual error of judgment" and form of discrimination that's definitely against Pizza Hut policy, while the town's chamber of commerce president got furious enough to demand "their head on a block" and wonder why there weren't procedures to keep something so wrong "from happening." Us, too — and here we thought Pizza Hut was supposed to be really good at reading everyone's minds.