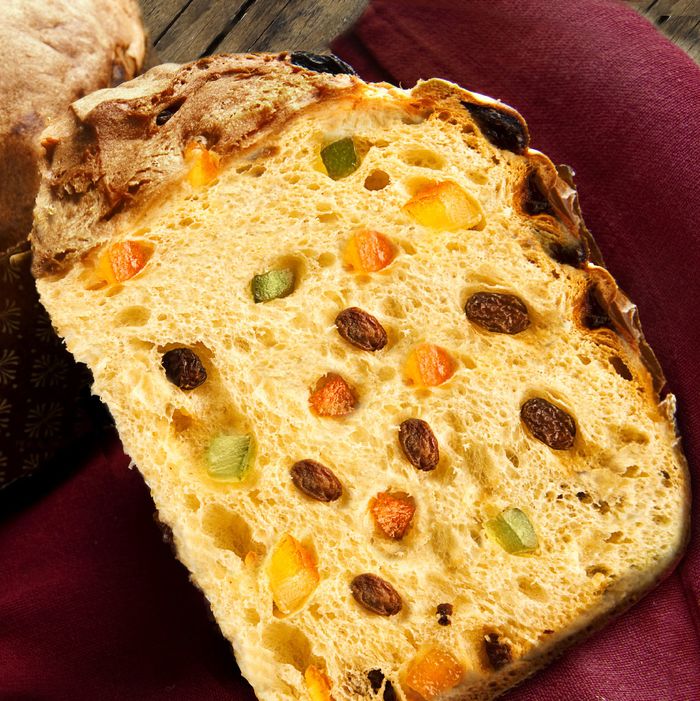 Flour, butter, eggs, sugar, yeast, raisins, and candied fruit.
Photo: Courtesy of Sant Ambroeus
Sweet breads, like stollen, can be rather polarizing. And everyone knows the annual jokes about fruitcake. But it's hard not to love panettone. The cylindrical loaf — originally from Milan — usually includes citron, raisins, and lemon zest, and is traditionally served at Christmas and New Year's celebrations. It looks as good as it tastes and this time of year it is in plentiful supply around New York, making it the perfect present for any holiday party (or maybe that co-worker you just realized you never bought a gift for). Here are ten excellent places to get a round of your own, whatever the reason may be.
Sant Ambroeus
Price: $39
All locations of the swanky Italian restaurant (Madison, West Village, Soho, Southampton, and inside the Loews Regency Hotel) sell the bread — and it's also available online. The ingredients stick to tradition: flour, butter, eggs, sugar, yeast, raisins, and candied fruit.
L'Albero dei Gelati
Price: $35
This Lombardy-based gelato shop has a Stateside outpost in Park Slope, and according to carb expert Peter Endress (of Runner & Stone), it makes the greatest panettone this side of the pond.
Eataly
Price: Starting at $16.80
Of course Eataly boasts several types of panettone and mixes — and one even comes without candied oranges. All are available online, too.
Grandaisy Bakery
Price: $20
Rum-soaked raisins, citron, and a touch of honey make for a decidedly adult dessert.
Sullivan St. Bakery
Price: $37.77
This bakery offers two types of panettone: traditional and chocolate, made with Valrhona dark chocolate and dried sour cherries. Even better: Ten percent of the proceeds go to City Harvest.
Bklyn Larder
Price: $39 to $49
The Franny's offshoot sells several varieties, including beautifully wrapped sour-cherry version, or a raisin-studded version shot through with Balsamic-vinegar crème. Another highlight: If you plan to buy this for an out-of-town giftee, you can do so online.
Pasticceria Bruno
Price: $9.50 to $22
Again, two options: Panettone Genovese, with pine nuts, citron, and raisins; and Panettone Milan, which excludes pine nuts.

Settepani Bakery
Price: $2.50 to $20
This Williamsburg bakery sells small single-size breads for $2.50 — and two-pound loaves for $20. There's a classic dried-fruit variation, as well as a brand-new chocolate one.
Pasticceria Rocco
Price: $9 to $15
You'll find a fancy Panettone Genovese loaf with raisons, citron, pignoli nuts, and anise at this famed West Village bakery.
Doughnut Plant
Price: $3.50
A fried panettone-cake doughnut is available until the end of the month, and it includes candied citron, candied oranges, and cinnamon-sugar glaze. Walk on over to the newest location — the first in Brooklyn, at 245 Flatbush Ave. — to check it out.