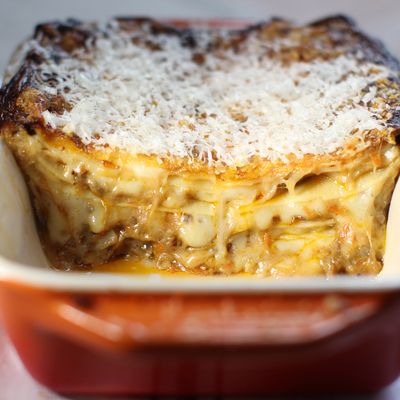 Bowery Meat Co.'s duck lasagna with caciocavallo and Parmesan.
Photo: Melissa Hom
There is little doubt that New York's most famous lasagna is the 100-layer monster served by chef Mark Ladner at Del Posto — a justifiable champ. But that doesn't mean it's the only option in town. In fact, there are plenty of other places in the city that assemble meat, cheese, creamy sauce, and broad flat noodles into a number of different must-eat variations. It is December and now is the time to get started making your rounds — here are more than a dozen options (mostly new, with a few favorites thrown in) to check out. Including, of course, one with a two-inch marrow bone in the center.
Via Carota
Price: $16
Regulars know that lasagna is a mainstay at I Sodi, so it's only natural that Rita Sodi and her partner Jody Williams are serving lasagna at their new Grove Street spot, too. Their recipe includes fresh pasta and root vegetables.
Bowery Meat Company
Price: $42
Chef Josh Capon walks through the dining room with trays of duck lasagna for two — made with both caciocavallo and Parmesan cheese — and serves the hulking scoops tableside.
The Dutch
Price: $19
New to the menu is a "lasagnette" with spicy tripe ragu, pecorino cheese, and 'nduja. It's like lasagna, but made with thinner, flatter noodles.
Colicchio & Sons
Price: $65
Splurge for the white-truffle lasagna — fresh pasta topped with, of course, shaved white truffles. Go big.
GG's
Price: $13 or $18
This (semi) virtuous lasagna is made with whole-wheat pasta, roasted mushrooms, and pesto. Totally light and healthy.
L'Apicio
Price: $20
Gabe Thompson offers a 14-layer spinach lasagna featuring tomato, bolognese, and béchamel sauces — plus melted housemade mozzarella.
Florian
Price: $24
This new Flatiron restaurant wins for richest lasagna: Slow-braised ossobuco and Parmesan-béchamel cheese sauce are sandwiched between housemade lasagna sheets … with a two-inch marrow bone in the center.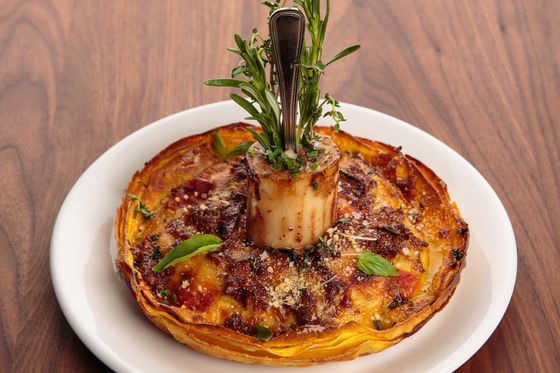 Frank
Price: $20.95
This special — available every Thursday, and only on Thursdays — is made with spinach noodles, Bolognese, ricotta, Parmesan mozzarella, and tomato sauce. It has a cult following for good reason.
The Gander
Price: $15
Jesse Schenker's riff on lasagna includes crispy pig's ear, roasted pork shoulder, barbecue-béchamel sauce, and broccoli.
Rubirosa
Price: $26
This lasagna — with mozzarella, tomato, sausage, and meatballs — feeds two (at least). Try not to fill up on vodka pizza first.
Empire Diner
Price: $19
Amanda Freitag's vegetable lasagna, with herbed ricotta, eggplant, spinach, mushroom, and marinara, is a (relatively) lighter option.
Osteria Morini
Price: $22
Don't forget: Pasta King Michael White's downtown restaurant serves lasagna verde with ragu antica, béchamel, and Parmesan.
Bianca
Price: $14
Lasagna is the specialty at this East Village gem: It's a traditional preperation with béchamel and meat sauce.
Peasant
Price: $26
Peasant has one of the warmest dining rooms in New York, and the lasagne di coniglio — with rabbit, béchamel, and fresh herbs — only makes it feel cozier.