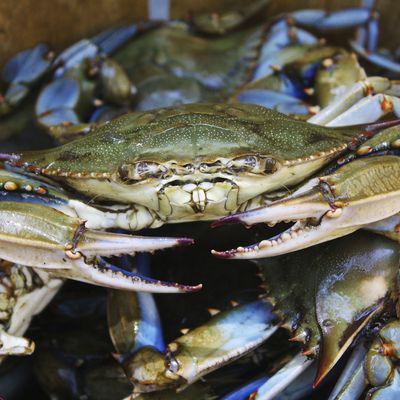 Blue E. Crab says: Accept no substitutes.
Photo: Getty Images
By now it is a given that the chances are high your grocery stores sells fraudulent shrimp and imposter tuna lurks at your neighborhood takeout sushi place. The Baltimore Sun taps these woes and more in its report on cutbacks at the NOAA, the federal agency that handles fish fraud. Civil and criminal cases, it writes, have fizzled by almost 75 percent since 2008, which is little reassurance when you learn dishonest vendors can score an extra $500,000 by simply slapping "Maryland" instead of "Indonesia" on a container of crabmeat. In other words, your crabcake may not be as authentically Chesapeakean as you thought it was.
The agency says the drop in inspection cases is an intentional strategy shift, from punishing seafood scammers to enforcing compliance. Regardless, the entire Eastern seaboard from New York to Virginia as well as all 1.4 billion pounds of annual imports are now handled by a team of eight working out of a Jersey strip mall, and the agency has shed 74 of 147 investigative special agents in five years while hiring 98 people who specialize in compliance, a staffing plan one top-level NOAA agent calls "a charade."
This of course is only the umpteenth look at the murky waters that are the U.S. seafood industry. While the conservation group Oceana hasn't tested crab because of its already-high price, it did publish a study on shrimp this summer showing 67 percent of what's in grocery stores is mislabeled. To fight shenanigans like these, Maryland recently ramped up its True Blue certification program, and more chefs say they no longer trust anyone but local watermen, so not all of the consequences of the slackage are bad — there's more local seafood on your plate. And the Sun notes changes could be on the way. President Obama recently convened a task force to find ways to crack down on fraud, and it owes him a report later this month.
Related: There's a Good Chance the Shrimp You're Buying Is Mislabeled
[Sun]