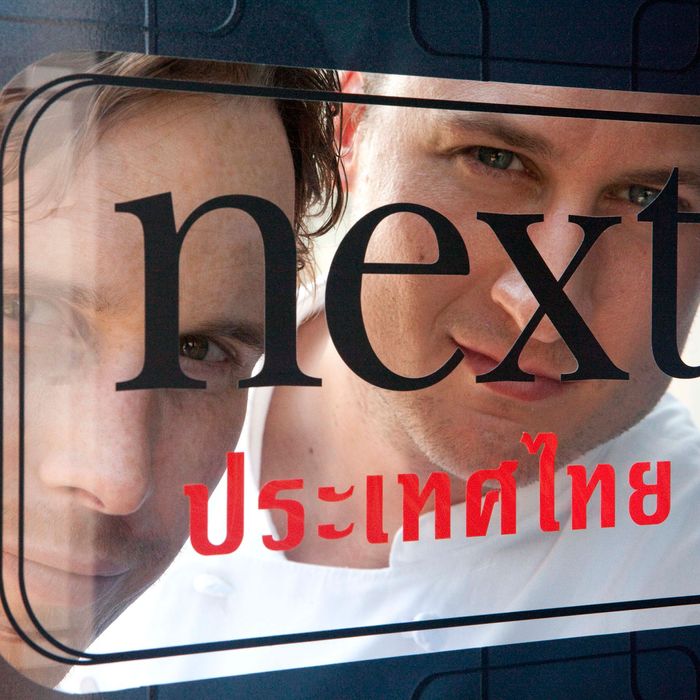 These guys are at it again.
Photo: Grant Achatz/Twitter
When he's not reinventing cuisine at Alinea, palling around with his former pastry chef Alex Stupak, or generally overthrowing the hegemony of the restaurant-reservation system as we know it, Grant Achatz likes to devise and cook special themed dinners at his restaurant Next. As it happens, the chef, along with executive chef Dave Beran, have just announced the lineup for 2015. It includes:
• Bistro, which will be served January through May, and will involve "the more casual side of Parisian dining culture." This one will cost $80 to 120, depending on ticketing specifics. Interestingly, it seems like this one will evolve throughout the season. "Every week we will introduce new items on our evolving 5-7 course chalkboard menu," they write, adding "we will also have specials and supplements on a daily basis."
• Tapas, which goes May through September, costs $70 to 110 per person, and is described thus: "Small bites in Spain of Tapas or Pintxos are in many ways the predecessor of the long, modernist tasting menus of today. We present both traditional and modern takes on Spanish cuisine from North to South." Also, dancing may be involved.
• September through December, Next will serve a menu based on the idea of "Terroir," which will come in at $295 to 355 per person, span some 15 courses, ten vintage wines, and "surprises." The official description says the menu "pairs wines from the Northern Hemisphere's greatest viticultural traditions with classic dishes from the same Terroirs. Burgundy, Alsace, Bordeaux, Chianti, Austria, Switzerland, Germany, California, Washington State." Prices are inclusive of wine.
Season ticket holders — hopefully, this includes Chicago's Michelin inspector in 2015 — can renew starting Thursday. Everyone else will have to wait until Saturday.