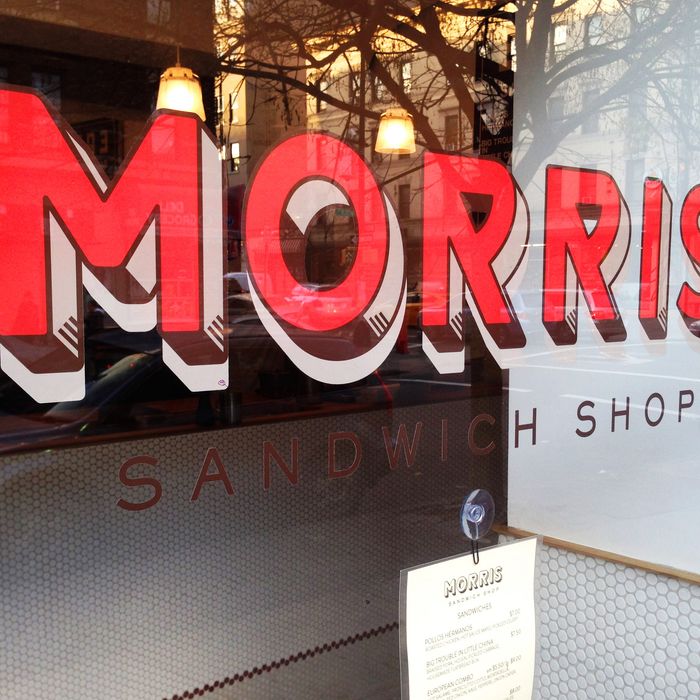 Jacober plans to open two more of these in 2015.
For those of you keeping track of Michael Jacober's Brooklyn-based culinary ambitions, they go something like this: The chef and restaurateur behind Morris Grilled Cheese debuted Glady's, a brick-and-mortar restaurant in Crown Heights with cerulean bar stools and a wood-burning oven, last year. In February, Glady's transitioned from its menu of great sandwiches and Franny's-esque dinner into something decidedly more Caribbean, and now Jacober has turned a 200-square-foot space around the corner into a showcase for those sandwiches.
The "Bubie" is a kissing cousin to the Reuben, made with pastrami-spiced corned beef, raclette, sauerkraut, and dark mustard made with burnt onions. There's a vegetarian sandwich called the "Mona," which has cauliflower, kale, beets, and hard-boiled egg. The space is designed for takeout, and has counter service; Jacober and director of ops Ben Latham plan to open three more locations by the end of next year.
Morris Sandwich Shop, which opens January 2, will keep all-day hours from 8 a.m. to 8 p.m. during the week, opening at 10 a.m. on the weekends. The shop will also serve sodas with syrups made on the premises, and a variety of drinks made with Toby's Estate Coffee. Here's the opening menu.
Sandwiches
Pollos Hermanos, $7
Roasted Chicken, Hot Sauce Mayo, Pickled Celery, Blue Cheese
Big Trouble in Little China, $7.50
Sichuan Braised Pork, Pickled Cabbage, Hoisin, House Made Flatbread Bun
European Combo, $5.50 (small), $9.00 (large)
Hot Salame, Prosciutto Cotto, Mortadella, Gruyere, Red Onion, Kale, Onion Caper Mayo
The Mona, $8.00
Cauliflower Purée, Roasted Beets, Kale, Pickles, Radish, Soft Boiled Egg, Sweet Chili Mayo
The Bubie, $9.00
Pastrami Rubbed Corned Beef, Charred Onion Mustard, Raclette, Sauerkraut
Breakfast Sandwiches
2 Eggs, Cheddar, Ketchup $4; add bacon jam, $5.50
Classic Grilled Cheese, $5
NY Cheddar, Landaff Cheese
569 Lincoln Pl., nr. Franklin Ave., Crown Heights; no phone