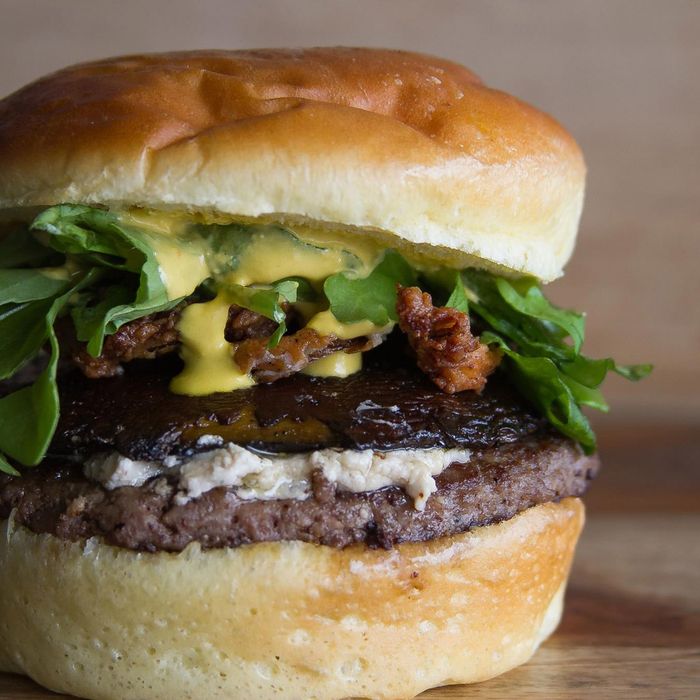 Portobello and Wagyu sounds like a good burger.
Photo: Courtesy of MooCluckMoo
Your standard debunking of the $15 hourly wage argument usually goes like this: Whatever the initial benefit to underpaid workers is, the pay hike is unsustainable for small businesses, which is a lose-lose for everybody. Your standard debunker, however, may want to consider this anomaly that has attracted the attention of workers' rights advocates and fast-food honchos alike: Detroit's money-making, living-wage-paying Moo Cluck Moo.
When the restaurant opened the first of its two locations, it was 2012 and workers got paid a still-high $12 an hour. Moo Cluck Moo specializes in burgers, so somebody had to do the proverbial patty flipping. To combat lower-rung syndrome, co-founder Brian Parker devised a system that designated the task as several rotating responsibilities that also include manning the grill, working the fryer, baking the buns, and whipping up the housemade "Moo Sauce." Constant rotation keeps morale high, he says, along with the pay. And while those burgers cost $6, people aren't complaining of highway robbery; the restaurant uses "Wagyu" beef and has meanwhile also been able to raise wages to $15 an hour.
"I'm not driving around in a six-figure sports car," Parker says, but the company is going to post a quarterly profit and has big expansion plans nonetheless. Moo Cluck Moo even sat out its first tip tip last week. Everything customers put in it, however, goes to a local charity.
[NPR]