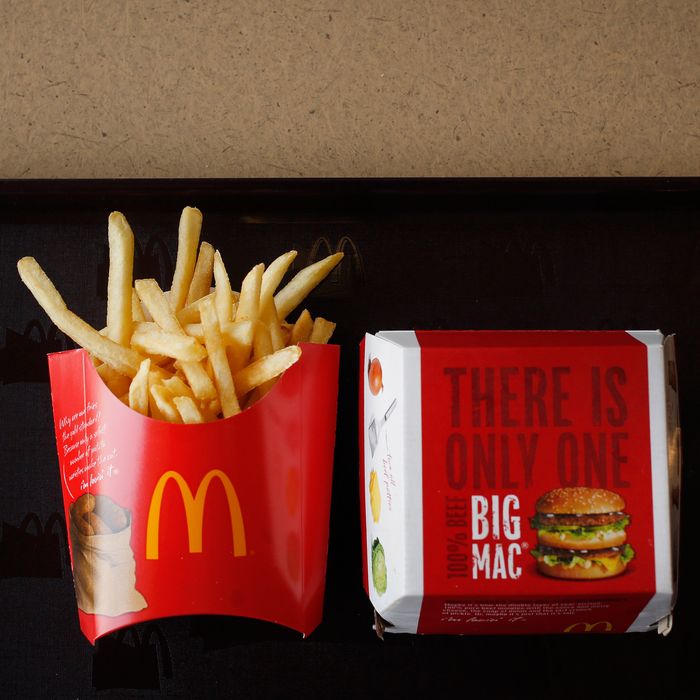 Oh no.
Photo: Luke Sharrett/Bloomberg via Getty Images
McDonald's must be getting really desperate with ways to rejuvenate its flagging brand, particularly among the 18 to 24 male demographic. A location in Switzerland treated customers to some X-rated footage on the dining-area flat-screens. Sexy Sports Clips sounds PG-13 enough, but as the NSFW pic — even the Post blurred it out — captured by a customer and run by German paper 20 Minuten shows, there was more going on than sportscasting in bikinis.
Apparently "to please a customer" earlier in the day, employees had turned the TVs to Eurosport, a channel that, when good families have all gone to bed, apparently runs decidedly family-unfriendly fare. The restaurant was mostly empty except for a table self-described as "only a group of men" who said "it didn't bother us," which is one way of saying they sat there and watched until an employee freaked and probably changed it to whatever came by jabbing at the channel changer in a panic. McDonald's apologized anyhow, giving two excuses for the mistake: that workers were too busy "concentrating on our customers and their work," and of course had no clue that channel carried porn.
[NYP]