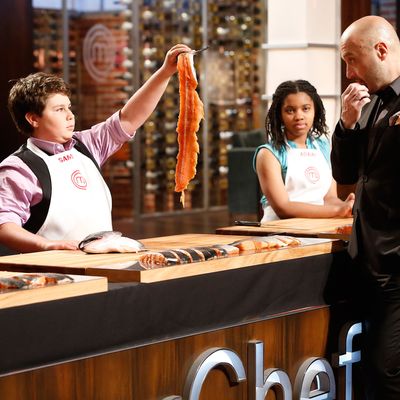 "Maybe we use that one for a spicy salmon roll … "
Photo: Fox
As lovely a show as MasterChef Junior is, something is lost as the pool of contestants shrinks. The nervous, giddy energy of excited children gives way to something more strained and the lack of tiny child chefs often makes each episode seem strangely unbalanced. The kids' first challenge entails breaking down an enormous Alaskan king salmon. Each fish is so large that Abby struggles simply to collect it from the pantry. Samuel, though, is excited for the opportunity, remarking that breaking down the fish himself makes for a "much deeper connection with the ingredient." It's hard to say how a child that age reaches that level of pretension so quickly but, lucky for him, Samuel's gifts will likely make him a huge Food Network star in the next 20 years.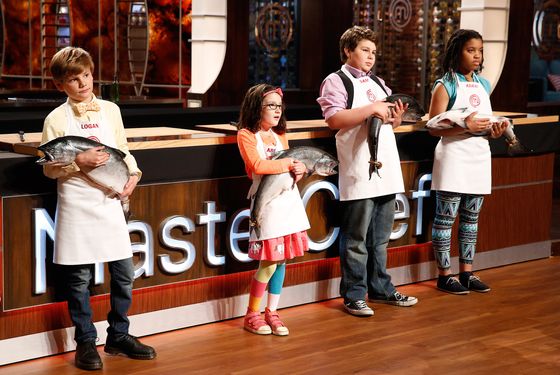 Gordon Ramsay gives the kids a quick fish-filleting walk-through, exhibiting far more skill and finesse than is enjoyable to observe in such a loathsome human being. Abby and Logan each end up butchering their salmon both literally and figuratively, while Samuel does a fine job. Adaiah, however, operates with precision beyond her years and wins the advantage.
It's at this point that the judges launched into a long, bizarre informercial for the Samsung Food Showcase refrigerator, extolling all of the high-tech fridge features as the camera cuts between glamour shots of the equipment and the fidgeting children who won't be in the market for a $3,000 kitchen appliance for quite some time. Welcome to the age of the DVR, where your commercials are seamlessly integrated into the very DNA of your show of choice.
But this is no mere ad: The fridges are seamlessly integrated into the fabric of the next challenge. Each fridge holds a different number of ingredients, and it's up to Adaiah to assign a specific fridge to each child. It requires a bit of strategy, and Adaiah decides that distractible Abby will get 100 ingredients, highbrow Samuel gets the fridge with 25 pedestrian ingredients, talented Logan only has a mere 5 ingredients to work with, and Adaiah takes 50 ingredients for herself. It's hard to say how this strategy played out exactly, though since she was ultimately eliminated, it's probably safe to say it didn't go as planned.
Abby is indeed distracted by having so many choices in her fridge, but after the fish-fillet challenge demonstrated she's still a little out of her league, it never seemed very likely she'd move to the finals anyway. Her orange mango salmon isn't up to par, but the judges are sweet to her all the same, as though everyone realized simultaneously that the 8-year-old was outmatched, so they just want to let her down as gently as is possible.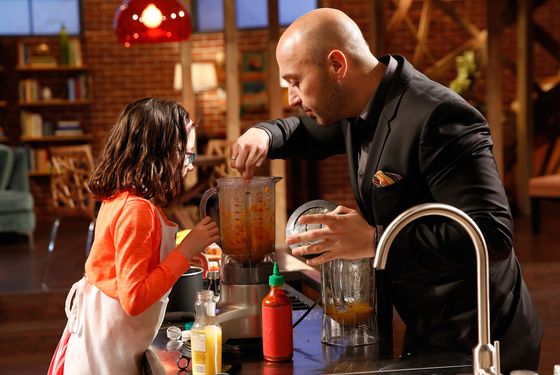 Samuel pan-sears his salmon and makes a complicated confit and gremolata. His fish looks decidedly burnt, is overcooked, and is on the small side. Apparently none of these sins are enough to dislodge him from the finals, though. Meanwhile, Logan goes for a very risky preparation on his salmon, choosing to poach it in olive oil. It results in a fantastic piece of protein, but his broccoli rabe is completely raw. In the end, perfect fish wins out and he, too, advances to the finals.
Poor Adaiah, despite her perfect fillets, attempts a teriyaki prep on her salmon with a kale stir-fry, but the fact that she burnt her garlic is enough to derail a complete season of competency, and she's sent home, too.
This decision is logical enough, as the boys had two of the three competent dishes composed in this episode, but it's disheartening all the same to see the girls shunted to the side just one episode shy of the end. There are many tears in the wake of the eliminations, which goes on for a full five minutes. The judges didn't make the wrong decision, necessarily, but they didn't make a particularly interesting one, either. After hugs and consolations, the episode ends with Ramsay saying, "Good night, ladies." Indeed. Make sure to come back next week to see which impeccably dressed fussbudget will take home the title.