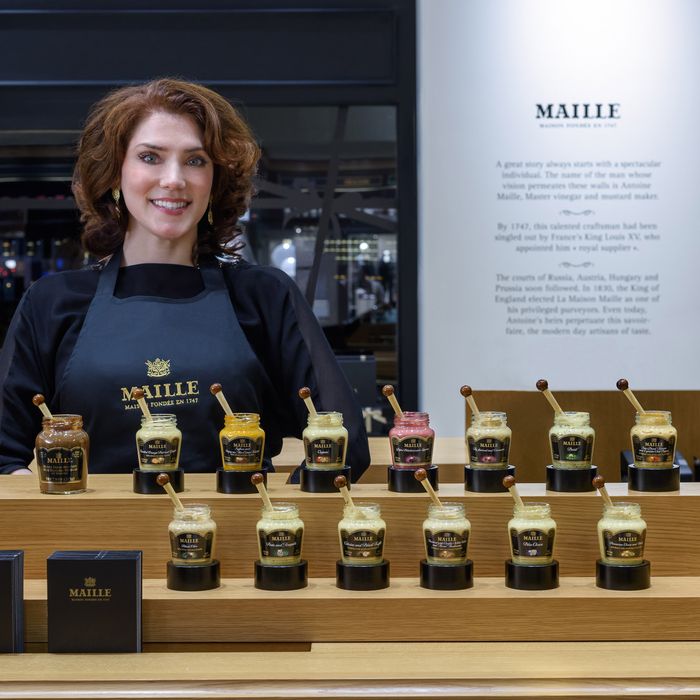 Pierette Huttner works at the new Maille store in Manhattan.
Photo: Filip Wolak
This past weekend, venerated, centuries-old French mustard brand Maille opened its first stand-alone boutique in the U.S., on Manhattan's Upper West Side. Maille currently operates similar showrooms in Paris, London, and of course in Dijon, so make no mistake: This is a permanent affair, not a pop-up, and it's stocked accordingly. Other than classic cornichons, the Maille shop carries a wide-range of flavors in jars and pours mustard on tap, "filled by hand" in stoneware jars, up to 18.6 ounces. There are more than twenty varieties — morel, Cognac, and black truffle among them. And the whole thing is overseen by Pierette Huttner, who holds the title of "Mustard Sommelier" — a job that has us very intrigued. Grub talked to Huttner to see just exactly what the gig entails.
How does someone even train to become a mustard sommelier?
I started with Maille earlier this year, and worked in all the stores around the world. The store in Dijon is a very special experience, because there are three things — black currants, gingerbread, and mustard — that traditionally come from there. I'm very familiar with the process and the recipes. We lead clients through tastings, whether that's mustard on tap or though the expanded range of jarred mustard.
So, if you were blindfolded, would you be able to correctly I.D. all of the mustards?
Yes. I absolutely would.
Your mental inventory involves extensive tasting notes on about a dozen varieties?
We have over 20 right now and will add to the range. In Europe, they have over 40.
And you're carrying something called blue-cheese mustard?
Yes! We make a blue-cheese mustard, and we also make a Parmesan and basil. We have some that are fruit-based, like black currant. We have walnut, which is exceptional, and fig and coriander, which also falls into the fruit category. One of my favorites is sun-dried tomato and Espelette pepper, which is fantastic with eggs and sausage in the morning.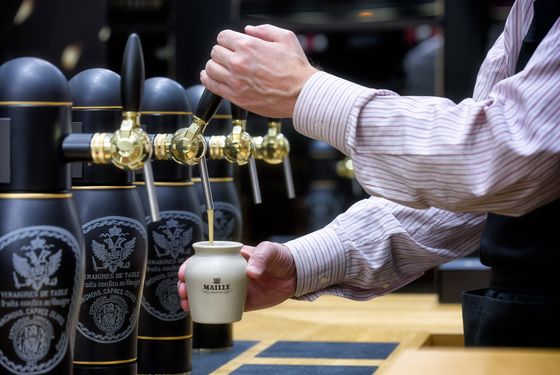 Are any of those ultralimited-edition mustards?
For the holidays, we bring out something very special, which is the Chablis wine and black truffle mustard. It's absolutely fantastic and unbelievable. It's a seasonal and limited-edition mustard, and comes in a stoneware jar which is hand-painted in France. So it's a really particular experience.
How does the pricing work?
The mustards on tap run from $25 for 4.4-ounce jars, to $99 for the 18.6-ounce jar of truffle. The extended range starts at $9 for 100 milliliter mustard.
Have you had any mustard fanatics come in yet with stoneware jars to refill?
Oh, we have! We had a couple from the neighborhood who spend half the year in Provence bring in their stoneware jar that hey purchased in Paris. This was the first day we were open.
So let's talk about pairings. May I name some foods and get your suggestions?
Absolutely, we love pairings.
Say I have a glazed ham.
I might do the very traditional white wine, just to give it a little bit of heat and kick. That's one of the ones we have on tap.
Pretzels.
There you can have a lot of fun. Blue cheese, or you could have a lot of fun with the Parmesan-basil. If the pretzel was soft and a little hot, something a little decadent like the black truffle would be exceptional.
What about hot dogs?
With a more traditional palate, I would do whole-grain Chardonnay, and if someone wanted to do something more expansive, I'd go with the sun-dried tomato and Espelette chili pepper. It's really one of my favorites and it pairs well with meats. That would be quite fantastic. Even trying something like the black currant would be fantastic, believe it or not, because it's a different kind of flavor progression, where it just adds a little bit of tartness without being too fruity.
What kind of mustard do you recommend for people who don't like mustard?
Parmesan cheese and basil. Those flavors are very familiar and well-liked, so it's a great gateway mustard. People who think they don't like mustard taste that and suddenly have an "aha moment" of what mustard can actually be.
How do you feel about ketchup?
Oh, our sister, ketchup? We love all condiments, but Maille is about mustard. That's who we are.