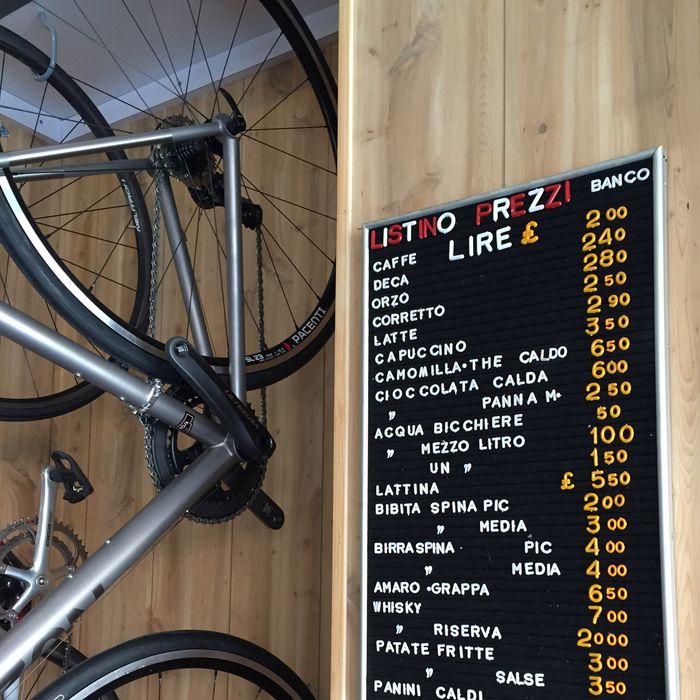 Grab and espresso, watch the race.
Photo: Hugh Merwin
Manuel Mainardi, a co-founder of the production company Creative Chaos, has been serious about bikes for 15 years and racing them for five. After he was temporarily sidelined by a motorcycle accident a few years back, he began to draw out plans for a shop where "people could come in to sit down and play cards, or stand up at the bar and drink an espresso," he says, but also get tune-ups or flat tires fixed. Now, after several months of build-out, his Maglia Rosa has debuted at the farthest reaches of Fourth Place, just a few feet from where Hamilton Avenue curves around the BQE in Carroll Gardens.
"Everything needed to be perfect," the Milan native says, regarding the shop, which opened late last month. Tricked-out city bikes are mounted along its walls, and there's a workshop in the back. Mainardi took a professional mechanic's class while devising the caffé component. He also got sucked into the world of building a bicycle, frame first, by hand and from scratch. "It is just a beautiful thing to do," he says.
Maglia Rosa is one part boutique shop. Customers go in for a kind of fitting; everything is built to spec, based on measurements and the kind of ride he or she is looking to have. Prices range from around $4,500 titanium full bike and can scale to five figures. There is a selection of handsome photo books about cycling, a few tables, and a lone, wall-mounted TV plays Italian matches and races nonstop. (If you want to watch football, says Mainardi, there are bars for that on Smith Street.)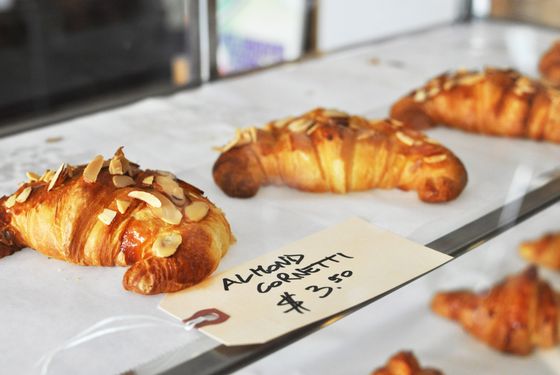 The café is up front. The apricot and almond cornetti in the pastry case are made by Edoardo Mantelli of Saraghina in Bed-Stuy, and its adjoining bakery that opened over the summer. They cost $3.50. There's a spartan prep area with sandwich presses behind the counter and Mainardi, who is a self-identified "bread-aholic," says he's working on something new with prosciutto cotto and fontina served on focaccia, based on something similar that is served in Liguria. The panini roster itself was developed with Mainardi's "dear friend," who turns out to be behind the sandwich genius behind Milan's lauded PaniniLAB. One is made with San Danielle prosciutto, tomato, and Sicilian anchovies; another has got squacquerone, a soft, cow's-milk cheese, and salame Felino. Sandwiches can also be built to spec.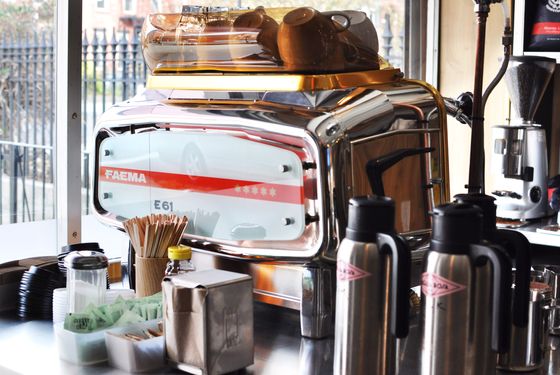 Otherwise, the shop opens at 7 a.m. weekdays — 8 a.m. on the weekend — and Mainardi makes espresso, cappuccinos, and cortados on a hulking Faema E61 with La Colombe beans. He also serves a marocchino, which has a dusting of cocoa, a bit of milk foam, and strong espresso. It's the ultrabitter antithesis of the pumpkin spice latte, which is to say it is delicious.
2 Fourth Pl., at Henry St., Carroll Gardens; 347-227-7643