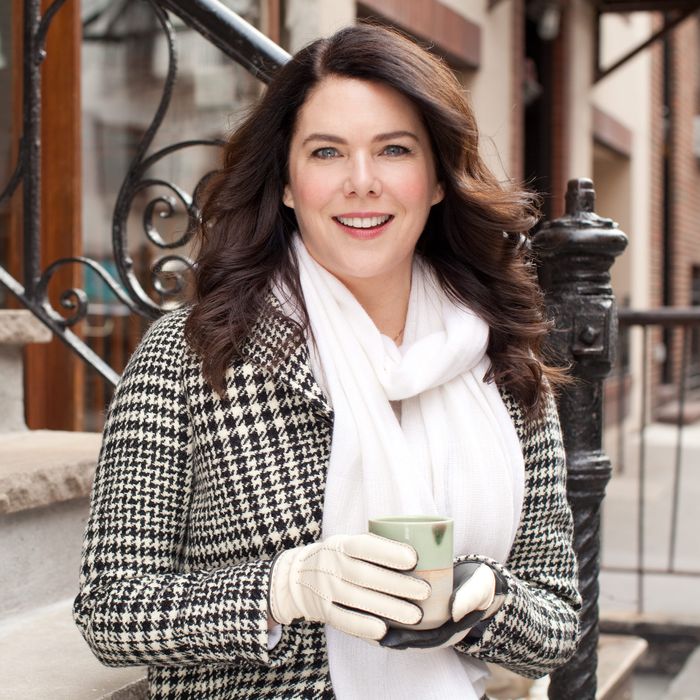 "Back at the hotel, I only eat half of it, 'cause, actor."
Photo: Melissa Hom
Actress Lauren Graham — of Gilmore Girls and Parenthood fame — is also a bona fide writer. This week, she flew from Los Angeles to New York to finish writing her television pilot with Liz Tuccillo, and she's also working on her second book. Graham has spent a lot of time in the city, but over the past few days, she entered unchartered territory: "I've had an apartment downtown for over ten years, but my sister is living there while her place is being renovated, so I'm staying in a hotel in a foreign country called midtown," she says. "I have no idea who I am in this section of New York, and no idea what the fancy ladies who live in this neighborhood eat, besides what appears to be very little." It seems that Graham found her way — shopping at a nearby Japanese grocery store, feasting at Nobu, and grabbing a large coffee (Lorelai Gilmore style!) at Viand. Read all about it in this week's Grub Street Diet.
Thursday, December 11
My boyfriend and I both had our last day of work on the series Parenthood yesterday, and this morning, he got up at 3 a.m. to announce the Golden Globe nominations. You know, just a normal week. So when he returns home, we're both pretty bleary-eyed, not to mention unemployed. We're also both traveling today and there's nothing to eat in the house. Wait, yes there is! Erika Christensen gave us all homemade zuchinni-ish Christmas bread yesterday. Where is that Christmas bread?
A-ha! It's in the car along with the toaster oven and throw pillows and Nespresso pods and everything else I haven't unpacked yet from six years' worth of stuff that has accumulated in my trailer at work. We have coffee with coconut creamer and agave syrup, 'cause we live in L.A., and Christmas bread toasted with butter. It's delicious, and saves us from eating something random from the freezer.
At the airport a few hours later, I get a chicken soup that tastes like elementary school. Not great. On the plane, I have warm nuts and a vodka soda. I'm planning to eat something really special and New York-y when I land, so I'm saving up. But the flight is delayed, so I give in and get a red-curry soup and salad. Again, waiting for the good stuff when I land. But then, there's another flight delay.
By the time I get into Manhattan, I'm really hungry, but now it's so late it feels like eating time has passed, and my desire for food is losing ground to my need to sleep. In this column, the novelist Gary Shteyngart once wrote about a disappointing food day: "My stomach cried me to sleep." Today, I'm with you, sir.
Friday, December 12
I slept in, and it's a beautiful day, so I decide I'll take advantage of my location to go for a run in the park. I picked this area partially because it feels unfamiliar, and because I thought I'd be less distracted if I wasn't in my usual hood. Plus: I can use Amex points at the hotel.
First, I stop at the Viand on Madison, a wonderful little place that's loud and warm and old-school NYC. "Chicken Souvlaki!" a waiter yells over the hubbub. There are takeout orders taped up on a board that look like they've been there since the '30s. I swear that one of them says, "Marlon Brando," but I could be wrong. I get a large coffee with milk and sugar. No agave syrup here.
Afterwards, I run up through Central Park to the reservoir. I pass a vendor feeding a squirrel a piece of churro, and an older couple holding hands. Maybe it's the Christmas music playing in my headphones that's giving everything a magical glow, but was that Adam Levine who just jogged by? Wait, is Sandra Bullock in this movie?
After my run, I stop back in to Viand for an everything bagel with cream cheese and tomato. Back at the hotel, I only eat half of it, 'cause, actor. It's perfect.
I meet my sister at the hotel restaurant. She's got to get to an office holiday party, so we quickly share a warm Caesar salad (sounds weird, but it's good), and a tuna tartare. It's a little early, but should we have a glass of wine? We decide: Yes! It's Christmas, after all! Everything is great, and the bill comes to about $1,092. We resolve to meet up later, but decide to branch out and eat somewhere that won't cost us another Ferrari.
She returns to visit me at the hotel, and we decide we're too tired to venture out after all, so we order a $50 million cheese plate and some $3,000 hummus from room service, and decide we won't feel bad about it, because of it being Christmas and all, and we have another glass of wine while watching White Christmas. For some reason, my sister doesn't believe me when I tell her Rosemary Clooney is George's aunt.
Saturday, December 13
My sister is meeting me at the hotel this morning to go for a "health walk" around the park before going Christmas shopping. She arrives looking like a supermodel, dressed all in black with heels. What about the health walk? "I thought that's what you meant by 'shopping,'" she says darkly. Okay, fine, no walk. We split a $9 million hotel fruit plate, promise each other once again that we won't order room service anymore, and hit the shops.
A nice salesman at Barney's named Stevie tells me how a $52 million black-and-white houndstooth coat fits into my lifestyle: "A skinny jean and a cherry-red lip, and you're done," he proclaims. I love it when clothes come with directions! But Sister and I suddenly realize we're weak with hunger. Stevie calls up to Fred's on Barneys' top floor. "I had to bribe the hostess, but you're in," he says dramatically.
And indeed, Fred's is overflowing. The crowd feels bubbly and full of holiday cheer. The waiters are the best. I get a thinly pounded chicken Paillard with green salad and a glass of white burgundy. Sister has salmon with spinach and a glass of red. Wine, at lunch? Again? "It's Christmas!" we merrily declare. The people next to us are thin Italians eating a giant amount of bread — how do they do it? We pat ourselves on the back for not getting the wonderful Fred's fries that come in a giant cone tower, although we can't help eyeing the people to our right who are clearly enjoying theirs. We debate stealing a few from them after they leave, but are pleased and surprised to realize we have just slightly more self-esteem than that.
I vaguely remember that the last time I stayed in midtown — back in 1832 — I was taken to a great sushi restaurant, one of those serious ones where no one speaks, not even the fish. But I can't remember the name. I ask the concierge: "Ah, yes. You're referring to Kuruma Zushi," he tells me. "One of the best places in the city." So we ask for seats at the sushi bar — always the best place to sit when a serious sushi chef is involved. But at this late hour, he can only get us a table. That's fine — we're thrilled to get in at all!
But as we approach, I realize this isn't the place I've been before (which, it turns out, was Sushi Yasuda). Oh, well. "One of the best in the city!" Who can complain? We take the elevator up to the second floor — so unusual and mysterious! But the rest of the evening is just plain confusing. The room is completely empty, except for a somewhat elaborate miniature Christmas village laid out on a nearby table. The sushi is fine but not incredible, the bill is steep, and as we leave, a look into the sushi bar area reveals only 3 people sitting at a 20-person bar, who enviably seem to be having a great time, yucking it up with the chef. Back in the elevator after the meal, my sister and I are silent for a moment until our eyes meet, whereupon we dissolve into giggles. "Well, they had that nice Christmas village at least," she sighs.
Sunday, December 14
Meeting Sister for brunch downtown, so I decide I'll walk from 57th Street. It's a long walk, but it's a great way to see the city and people-watch. I pass teens in elf outfits, tourists studying maps, and kids in those cute furry hats that look like animal heads.
I feel exponentially more at ease the closer I get to downtown. I've missed my neighborhood. I stop into Dainobu, a Japanese grocery store on Sixth Avenue. I usually go to Sunrise Mart on Broome, but this little shop has a nice selection, too. I grab some bags of seaweed-covered rice crackers to bring to my sister, and a cold green tea for the rest of my walk. Hair oil, bath sachets, and mystery health potions whose labels I don't understand are some of my other usual Japanese store purchases.
Sister and I split turkey and tomato on a roll, and each get an apple from our local deli. We were going to sit down somewhere, but decide we'd rather just forge ahead and get to our lists. I find some shirts and sweaters for the boyfriend at the men's store Odin on Lafayette, and Sister gets a shirt for her dad in London. Then we go to the best bookstore in the universe, McNally Jackson, and stop into their Goods for the Study shop, too, which has wonderful stationery and pens.
Because it's Christmas, we obviously need gel manicures. First, we dip into Gimme! Coffee on Mott, and I order an almond-milk chai latte, something I've never had before in my life. My sister looks at me like I've gone nuts as she orders our regular: a skim cappuccino. Like everything at Gimme, both drinks are delicious, and the hipsters are reassuringly hip.
After nails, we drop the shopping bags at the apartment, and head back out to meet my friend Allison from college and her friend Doug for dinner at Blue Ribbon Sushi. They've just come from a screening of American Sniper, which they declare "violent but good." We order a giant assortment of sushi and sashimi and seaweed salads.
Monday, December 15
I ran out earlier for a coffee and a banana and a yogurt. Liz [Tucillo] arrives at the hotel to work on our pilot. We work and talk and work some more. At 1 p.m., we have salads from room service. Liz declares the prices "depressing," but we're getting so much done, it feels wrong to leave. We work until 5 p.m.
I meet my sister at Nobu on 57th Street. My sister is at the hostess desk — it seems they don't have our reservation. After some confused back-and-forth, we realize I've been listed as "Heather Graham." Ha! But eventually we get to our table and order edamame, salads, black cod with miso, and a spicy tuna roll. We share some gifts: among them a Smythson notebook and a Grumpy Cat stocking!
Tuesday, December 16
Around 11 a.m., I health-walk up Fifth Avenue to 86th Street, then walk back down on Madison. At the fancy deli Marche Madison, they make everything except sandwiches. I don't know why; that's just the deal. They have some premade, but that's where they draw the line. Make a sandwich for you in front of your face? What are you, nuts? However, everything they do make is prepared beautifully. I spy a piece of chicken that looks like it's waiting to be discovered for the cover of Saveur magazine. Sorry, aspiring-model chicken! You're coming with me. Also you, unnecessarily attractive salad!
I'm meeting my editor from Random House, Jen E. Smith (whose YA books are, incidentally, excellent. That's probably what the "E" in her name stands for). We're meeting at the Library Bar at the Hudson Hotel, because we thought that seemed writerly of us, and I stop at the Time Warner Center on the way to buy her some Diptyque candles in the hopes of distracting her from how late my book is. "Deadline? What deadline? Here, smell this!"
But the Library Bar is closed for an event, so we go to the other bar in the hotel, Hudson Common, which is nice but not as thematically pleasing. We each have a glass of Champagne while we discuss reading and writing and our love of Japan, and she tells me about visiting the Robot Bar in Tokyo, which apparently features all kinds of robots interacting as friends, and also, naturally, scantily clad ladies. She seems to appreciate the candles, but weirdly still remembers that my book is late. We make a new plan for the book and assign a new deadline, but after we say good-bye I can't remember if we decided on spring 2015 or 2016, which I realize isn't a hopeful indicator of deadlines to come. But that's okay, because it's Christmas! (This obviously doesn't work in this context, but let's all play along.)
I meet my friend Kate Jennings Grant at the Palm on 50th. Kate is an incredible actress with impeccable taste, which makes her decision to add blue-cheese-stuffed olives to her martini that much more baffling. Is this not the world's most disgusting invention? In what other context would you pay someone to float a smelly cheese in your beverage? I get mine with a twist, and the waiter is cheery, and we order steaks the size of our heads and steamed spinach, which he mistakenly hears as "creamed spinach," but the joke's on him because that's what we actually wanted, but were too demure to ask for.
We discuss men and work and our mutual friend Linda Lavin, whose face coincidentally is drawn on the wall of portraits just above and to the left of Kate's ear, which gives the impression that she is a sort of dinnertime guardian angel watching over us. Ms. Lavin might not approve of our choice to order a second round of gallon-jug-size martinis, but we are caught up in conversation and holiday spirit, and I think she'd forgive us, because, after all, it's Christmas.