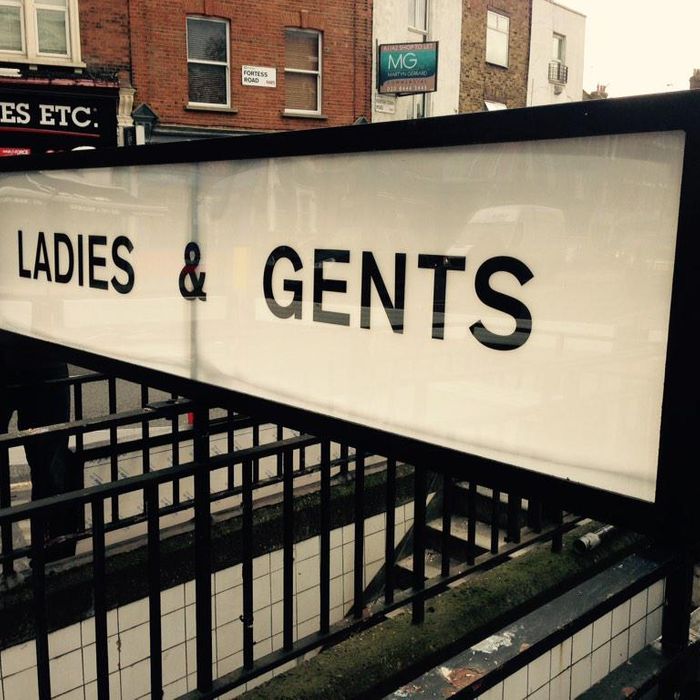 Way cooler than a speakeasy.
Photo: Ladies & Gentlemen/Twitter
Tonight in trendy North West London, some brilliant entrepreneur will debut a high-end, magical-sounding cocktail bar that just so happens to be located inside an old underground public restroom. It's called Ladies and Gentlemen, of course, and while the grand reveal hasn't gone down just yet, the space is apparently a beauty to look at, with lovely, pre-WWII marble mosaic flooring and arched beams throughout. Also, there's a wall of functioning urinals.
Proprietor Will Borrell, who owns a Polish vodka company, also included room for a grand piano and a small kitchen that will serve his mom's sausage rolls and Scotch eggs. The toilets and urinals have been lovingly refurbished, and somewhere among all these things there will also be an old-school copper alembic that turns out liquor made with "locally grown botanicals." Borrell's debut cocktail menu includes a drink called the "Nimby," which is bitter and Fernet-based and named in honor of the resistance he faced since last 18 months ago when he first presented plans to horrified civic groups. The toilets had been abandoned decades earlier, but preservation-minded locals protested regardless. Borrell eventually secured a 15-year lease for the bathrooms. "[W]e are signing up to a council scheme that means our toilets will be open to the public," he says.

This, like lots of other things that sound like they could be sourced from the Onion,, could be the start of a larger trend. In New York, for example, there are a staggering 129 restrooms scattered throughout the subway system in New York City, but only 48 of them are functioning and open to the public right now. Manhattan's dearth of real estate is a very real thing, after all, and we're already about to debut a giant food hall nestled up along the Columbus Circle subway station — maybe we'll have a few of our own bathroom bars by the end of 2015.
Related: Now Even Subway Stations Will Get Their Own High-End Food Halls
[Kentish Towner, Standard UK]