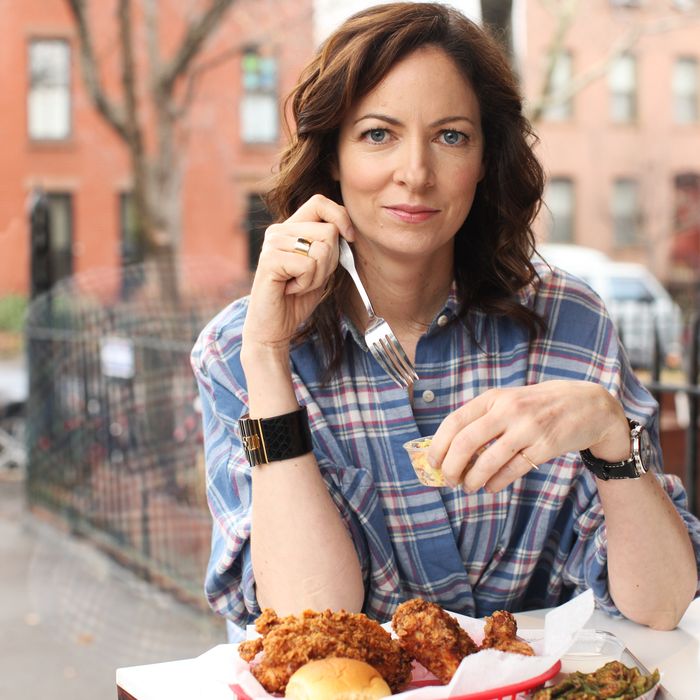 Diamond at Wilma Jean, one of the three restaurants she co-owns with Rob Newton.
Photo: Melissa Hom
Brought to you by
"My life is not about three square meals a day," Kerry Diamond says. This isn't too surprising. After all, Diamond juggles several high-profile gigs: She's the co-founder and editorial director of Cherry Bombe (the next issue comes out this week); the editor-in-chief of Yahoo Food; and co-owner (with her partner, chef Rob Newton) of Nightingale 9, Wilma Jean, and Smith Canteen, all in Carroll Gardens. This week, Diamond spent a lot of time hosting, attending, and, of course, eating at events: noodles out of a Chinese takeout container at Lucky Peach's party, Barbuto's shredded Brussels sprouts at the Billy Reid store, and Ovenly cookies at Cherry Bombe's Madewell fête. Read it all in this week's Grub Street Diet.
Thursday, December 4
I'm lost. I have a breakfast meeting at Hudson Eats and I can't figure out where it is. How do you find this place? I finally arrive in the belly of the building where I need to be and grab a coffee — light no sugar — from Black Seed. Hudson Eats is amazing, with its priceless view of the Hudson, but it's empty. I imagine it's like Grand Central Station at lunchtime.
Meeting over. I get back in line and order an everything bagel with lox and cream cheese. I was feeling like the only food editor in town who hasn't eaten a Black Seed Bagel. I'm friendly with Black Seed founder Noah Bernamoff and felt bad that I haven't tried the food there yet. That's a particular food-industry thing, as least for me. I feel bad when I bump into food folks and I haven't eaten their food. It's like bumping into an actor and you haven't seen his film. What do you say? "Oh, I heard the movie is great!" I eat the bagel when I get back to the office. It tastes like what a bagel should taste like.
At the end of the workday, I run to a Billy Reid party that I'm co-hosting at his new store in the West Village with my pal Laura Brown. Chef Jonathan Waxman, of Barbuto, one of my favorite New York restaurants, is there. But more important, so are some rice balls and shredded Brussels sprouts from Barbuto. I'm pretty hungry, so I quickly eat a bit, then grab a glass of Champagne. Later on, I eat a few more rice balls and drink another glass of bubbly.
The party ends, and I jump on the subway for the Lucky Peach party. I really hope there's food. I get there and it's packed with all the cool kids and they've all been drinking way longer than me. Someone finds me a Tiger Beer and I eventually find some food: noodles with some kind of savory ground-up mushrooms in a Chinese takeout container. I eat two containers' worth. They're crazy tasty. The beer runs out and the party dies down, so I head to the F train station on East Broadway. I'm dying to stop at one of the hole-in-the-wall joints over there for some dumplings or more noodles, but it's late and I need to get home. Once in my apartment, I eat a few spoonfuls of Haagen-Dazs Swiss Almond ice cream, drink a big glass of water, and go to bed.
Friday, December 5
Next morning, I'm hungry but in the more-sleep-versus-breakfast battle, the snooze button always wins. The F train is messed up, as usual, so the train expresses into Manhattan. I hop out at West 4th and get a green smoothie from Juice Generation. I did a charcoal-juice tasting with my Yahoo Food team a few days earlier, so now I have Juice Generation on the brain. (Charcoal's an ingredient in the new line of juices called Beauty Bombs.) I pick up a Vitamin C juice, too, because I notice a lot of people on the subway clutching tissues and sniffling. Wash your hands, everybody!
Yahoo offers free lunch and snacks. You can order lunch through Seamless, but the company also has grab-and-go stuff in the fridge. For lunch, I snag an arugula salad with lentils, mushrooms and sun-dried tomatoes. I keep waiting for the sun-dried tomato to make a comeback. I might die waiting.
That night, my boyfriend, Rob Newton, and I have dinner at Nightingale 9, our Vietnamese restaurant, with Mimi Sheraton, the former New York Times restaurant critic, who has become a friend. It's slightly unnerving to have dinner with a critic, even one who's not reviewing your restaurant. But Mimi's so great to talk to and such a font of food and restaurant knowledge and current events, it's easy to chill. Our sous chef sends a little bit of everything for us to try. Chicken and beef pho, spring rolls, cha ca (the popular Hanoi dish of catfish, dill, rice noodles, and turmeric), chicken wings, buon cuon (my favorite, a rice-flour crepe filled with chopped mushrooms) with lots of herbs. I ask our server Michelle to bring me a pint of whatever new beer we have on tap. I wind up taking home some leftovers, but that's okay. I love leftovers.
Saturday, December 6
It's a dreary day. I whip up my favorite smoothie in my Vitamix: frozen organic blueberries, frozen bananas, a tablespoon of almond butter, and some rice milk. I listen to the Brian Lehrer special on WNYC, drink my smoothie, then head to Smith Canteen for a latte. I stand on the long line, even though as the co-owner, I could cut the line. But I'd feel like a jerk.
Then it's off to the Cherry Bombe offices. The new issue is about to arrive, so we need to get all the labels printed and packaging ready. The train takes forever to come. I'm wondering if it's an MTA conspiracy to keep people in their neighborhoods because of all the protesting. Finally, almost an hour later, I'm at the Cherry Bombe offices and I'm hangry. I brought the leftover pho from last night, so I heat it up in the office microwave. It's yummy and perfect for the shitty weather.
We're at the office longer than I expect and I'm hungry again. I look around and, randomly, there's a can of Planter's mixed nuts on one of the shelves. I open it and dig out my favorites. Then, I find a box of goat-milk caramels that someone gave us. There's one left. I eat that too, then nuke some tap water for tea. I steep an Earl Grey teabag and add a splash of milk.
En route to my apartment, I swing by Whole Foods on Houston and pick up a grapefruit (citrus season!), some low-salt hummus, some loose carrots, almond-milk ice cream (surprisingly good stuff, even if you're a dairy enthusiast), and vegan "cheddar cheese." Vegan cheese? I'm testing some vegan products for a Yahoo Food story we're working on. I always wonder what the people at checkout think when they see all of your groceries. This assortment kinds of reads "sad single dairy avoider."
My boyfriend is home tonight because he's in the midst of recipe testing and a flurry of DIY activity. There are a bunch of experiments in the fridge and some on the counter. For dinner, he's making a lobster curry. (Dating a chef is awesome, but we don't eat lobster at home on a regular basis, just FYI. Rob was in Red Hook meeting with the White Moustache crew and he stopped by the Red Hook Lobster Pound for a lobster roll and picked up a lobster.)
Rob gives me a sample of a whey drink he's working on. White Moustache, of the insanely good yogurt, has excess whey and you can't dump whey down the drain, so we're turning it into something tasty and healthy. Coming soon to Smith Canteen, we hope.
Dinner won't be ready for a while, so I cut up the carrots, mix the hummus with some fresh-squeezed lemon juice and salt, and snack on that. Rob asks if I want some Gruner Veltliner. I say yes, just a splash for now, and he gives me the kind of pour you'd get if the bartender thinks you're cute. We eat the curry with jasmine rice, then watch Sonic Highways on HBO. Such an amazing series. Well done, Dave Grohl. Rob pours a glass of Fiddlehead Cellars 2010 Pinot Noir. It's nice and peppery and perfect for the weather. I eat half the almond ice cream, watch a bit of SNL with James Franco, and head to bed.
Sunday, December 7
Breakfast the next morning is tacos with avocado, cilantro, scrambled eggs, the vegan cheese, and my favorite condiment, Cholula. I'm hoping my boyfriend doesn't notice the vegan cheese, but it's easy to spot in the frying pan because it's not melting and it's very orange. I've never cooked with vegan cheese and wasn't sure what it would do exactly when heated up. Now I know. Rob's game and eats the egg taco. "It tastes like … vomit," he says. Surely, he's being extreme and chef-y, but he's right. There's a distinct aftertaste of vomit. Vegan cheese fail. We each eat half a grapefruit.
Even though we get free lunch and snacks at Yahoo, I like to bring my own food. But bringing your own lunch requires a lot of planning and preparation. I normally hit the local Greenmarket on Sunday and swing by my favorite food stores in the neighborhood, then take everything back to my apartment and prep. Rob always roasts a chicken on Sunday, and I roast veggies and clean and chop greens so I can throw together some quick salads in the a.m. My routine was a bit off last week because we were out of town for Thanksgiving, so today I get back in the swing of things. I bring our compost to the collection site at the Greenmarket, then pick up a latte at Smith Canteen, which is right across the street.
It's really cold at the Greenmarket and it stinks for the staffers working outside, but they're all cheerful. I buy some delicata squash, loose Brussels sprouts, spinach, butternut squash, dried cranberry beans, apples, shallots, onions, and sweet potatoes. Did I mention how much I love New York's Greenmarket program? I am a farmers' market nerd, out and proud. I then stop at the health-food store and buy some drinkable goat's-milk yogurt and Lacinato kale. I schlep everything home and wash and clean all the produce.
I get hungry and slice up half an apple and have that with some almond butter. I take the cha ca (the last of the Friday night leftovers) out of the fridge and let that come up to room temperature. I eat that for lunch. Later, I have some Earl Grey tea with milk.
Dinner is a roast chicken that Rob brined in whey from White Moustache, plus roasted delicata squash, roasted Brussels sprouts, and a small glass of Gewurstraminer. It is a school night, after all.
Monday, December 8
Monday morning and sleep wins, so all I have before leaving my apartment is a glass of water. At work, I have a cup of coffee with milk and two hard-boiled eggs. I don't eat the yolks. Dry yolks gross me out.
I brought lunch, a soup that Rob made with kale that was getting a little sad, chorizo, and cranberry beans. I also brought the leftover delicata and Brussels sprouts and an apple. I eat the apple with a packet of Justin's almond butter from the Yahoo kitchen.
That night, Claudia and I are hosting a Cherry Bombe party for Madewell in Soho in support of Citymeals-on-Wheels. The Madewell team ordered snacks from some of our favorite gals — Ovenly, Macaron Parlour, and CocoRau. Over the course of the night, I eat a peanut-butter cookie and a red-velvet macaron and drink two glasses of Prosecco. A lot of Cherry Bombe readers stop by to say hello and bring us gifts — baked goods, a book, a canvas tote. It's very sweet and it's nice to know the people who actually read the magazine. A lot of people stop by to pitch me ideas for Yahoo Food. I buy way too many plaid flannel shirts, probably because of the Sonic Highways influence.
Once home, I'm exhausted, so dinner is just some avocado and Consider Bardwell cheese on a slice of bread that Rob made.
Tuesday, December 9
The next morning, I decide to up my smoothie game and add some raw spinach to the usual recipe. It's pretty good. At Yahoo, I grab some office coffee. Lunch is more of Rob's kale-chorizo soup. At 5 p.m., the Ben & Jerry's team stops by to give the Yahoo Food team a taste of its new limited-edition flavor, which I'm not allowed to mention until the official announcement. I have a small scoop and it's great, but I've loved Ben & Jerry's since the late eighties, so of course I think this.
I get back to my desk and one of my Yahoo colleagues has kindly left her Duck Dynasty wine for me. "Maybe you can review it," she pings me. The label is camo. I also have a box of broccoli leaves waiting for me. They're big, like collards. We get a lot of interesting things delivered to Yahoo Food, from the strange to the awesome to the not-so-awesome. It's a challenge not to eat too much of the good stuff.
I'm having dinner at Contra, the tasting-menu spot on the Lower East Side, at 8:30 p.m., so by 7, I'm crashing. I know I shouldn't, but I grab a chocolate pudding out of the office snack fridge. Later, the dinner is great, five courses for $55. I like the food; I love the natural wines (I drink a few by-the-glass offerings); and I love the energy of the place. Our server is great and super knowledgeable about the wine list. The one thing I don't like about the tasting-menu trend that's so popular today is the prices. They're too prohibitive for most New Yorkers. At least these guys are trying to do something cool at an accessible price point. I get home, drink a big glass of water, and go to bed.