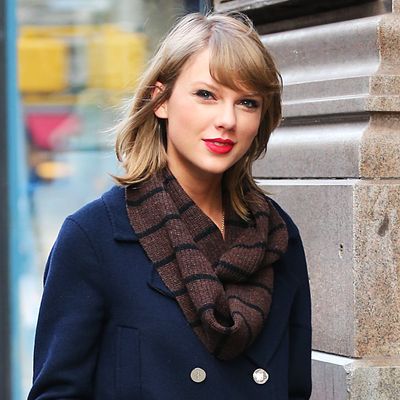 T.S. loves the West Village.
Photo: Sharpshooter Images / Splash News
With Oscar season heating up, it's prime season for A-list luncheons: Julianne Moore, Jennifer Aniston, and Bradley Cooper dined across New York while doing press for their new films. Meanwhile, Jake Gyllenhaal stopped in for lunch at Bar Pitti, Kate Upton dined at Nobu, and amid all the controversy surrounding their new movie, The Interview, James Franco and Seth Rogen found time for breakfast at the Smith. Read it all, straight ahead.
Almanac: Taylor Swift celebrated her 25th birthday with Cara Delevingne, Jaime King, and others at the brand-new West Village restaurant. [Page Six/NYP]
Bandit's Roost: Justin Timberlake stopped by the speakeasy. [Page Six/NYP]
Bar Pitti: Jake Gyllenhaal grabbed lunch. [Just Jared]
Bar URBO: Tony Danza had cocktails with his Honeymoon in Vegas castmates. [Page Six/NYP]
Da Claudio: Ed Burns and wife Christy Turlington checked out the new FiDi restaurant. [Page Six/NYP]
Dean & DeLuca: Co-stars Jake Gyllenhaal and Ruth Wilson took a break from rehearsals for their Broadway show, Constellations. [Just Jared]
The Four Seasons Restaurant: Bradley Cooper, Sienna Miller, and Clint Eastwood attended a luncheon for their new film, American Sniper. Barbara Walters, Anderson Cooper, and Gayle King also attended. [Just Jared]
Le Cirque: Alec Baldwin and Julianne Moore went to a luncheon for their new movie, Still Alice. [Just Jared]
Michael's: Marlo Thomas and Arianna Huffington hosted a lunch for Jennifer Aniston. [Page Six/NYP]
Nobu: Kate Upton had dinner with boyfriend Justin Verlander. [Just Jared]
Regency Bar & Grill: Martha Stewart, Monique Lhuillier, and Ralph Rucci showed up to a dinner for model Tatiana Sorokko. [Page Six/NYP]
The Smith: James Franco and Seth Rogen had breakfast after their appearance on Good Morning America. [Grub Street]
Upland: Liv Tyler hosted a party following the VIP screening of Jennifer Aniston's new movie, Cake. [Just Jared]
Victor's Cafe: Sting hung out with Duran Duran, but there was no sign of Culture Club. [Page Six/NYP]