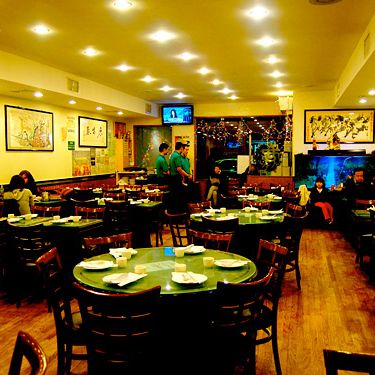 The soup dumplings have been trashed.
Photo: Patrick Siggins
Here we go again: The tourist-traffic heavy branch of Joe's Shanghai in midtown — home of excellent soup dumplings and somewhat unflattering light fixtures — was closed by the New York City Department of Health on Tuesday for a "severe roach infestation." It should be noted that the restaurant's kitchen had all sorts of big food safety no-nos going on, like the "food not protected from potential source of contamination during storage, preparation, transportation, display or service," and the absence or one of more sanitizing cloths at some hapless dumpling-maker's station. Oh, and cold food that didn't register at 41 degrees or lower when its temperature was taken. All of these things qualify as critical violations and contributed to the walloping 70 violation points the restaurant received.
It should also be noted that lots of other great places serve really great dumplings, and even Joe's has two other locations. Its Queens branch, which is more fun, anyhow, even scored an "A" on its last inspection in July. Workers at the midtown Joe's are prepping for their re-inspection and tell Gothamist they hope to be open again by the weekend.
Update: Joe's received two non-critical violations points during a followup visit from the health department and has since reopened to the public.
[Eater NY]