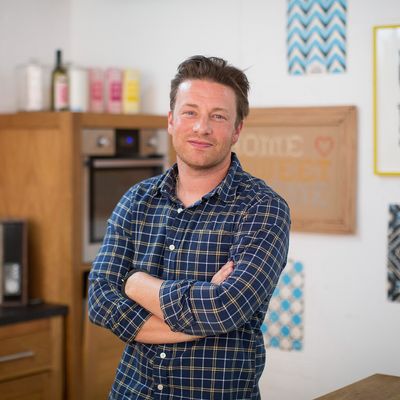 Maybe Jamie's Italian will someday even overtake Olive Garden.
Photo: Simon Dawson/Bloomberg via Getty Images
Sources "familiar with the situation" tell Reuters that a minority stake sale of Jamie Oliver's media empire will be the prelude to a major new growth phase that includes an online TV project and what no doubt will be a few dozen more locations of his fast-casual Jamie's Italian restaurant chain. The telegenic chef, who is worth $377 million, is reportedly recruiting major investors and will begin restructuring "early next year."
Oliver's current collection of Italian restaurants outside Britain includes an "epic" outpost in Sweden and an "incredible" Hong Kong location. He's announced major plans for Canada and is also reportedly looking to grow his Jamie's Italian Trattoria brand, which is described as "cheaper and more rustic," also presumably worldwide. The big push for expansion is rumored to begin in twelve months' time, which should give Oliver plenty of time to get over his fear of opening in the U.S.A. once and for all. Maybe he could even come up with a plan to offer unlimited breadsticks and displace the newly carbohydrate-bereft Olive Garden.