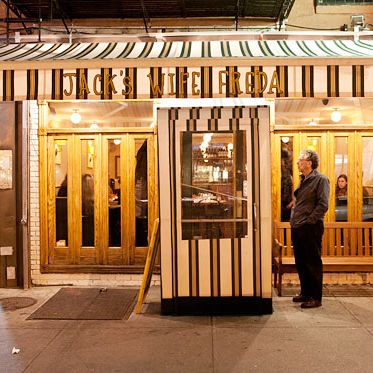 It'll look just like this.
Photo: Danny Kim
Since Dean and Maya Jankelowitz opened Jack's Wife Freda on Lafayette Street in January of 2012, New Yorkers have lined up for their matzo-ball soup, peri-peri chicken, and green shakshuka. Now, almost three years later, they're opening a second outpost in the West Village — in the former Fatty 'Cue space at 50 Carmine Street.
The new location will stay true to the original concept (as the Underground Gourmet put it, "South African Israeli Jewish Grandmother Cuisine"), but Maya tells Grub that this space will be larger than the original and offer an expanded menu. "It's going to be a natural extension of Jack's Wife Freda — the same feeling of easy come, easy go," she says. There will even be a striped awning. You can expect all of the classic dishes, plus a few new ones in each category, like lamb tartare. They're hoping to open the doors — which will be different from Fatty 'Cue's massive wood ones — at the beginning of January.