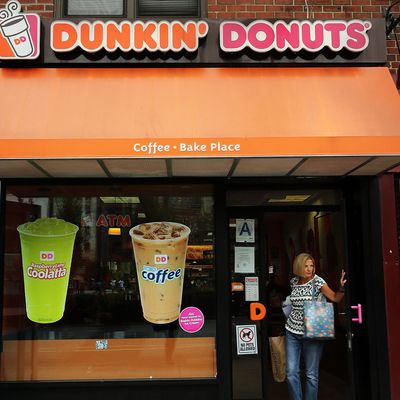 It's getting harder to run away from Dunkin'.
Photo: Spencer Platt/Getty Images
Reflecting back on 2014, the city can proudly say its number of Dunkin' stores grew by an astonishing 21 this year — to 536, which happens to be more locations than McDonald's (245) and Starbucks (282) combined. The sum comes from the Center for an Urban Future's annual State of the Chains report and was calculated back in August, before Dunkin' had even registered its bump from knockoff Cronuts. Still, the report is a chance to measure — and keep tabs on — all the major and would-be players. In what's bad news for the city's diminishing number of older establishments of character such as Café Edison, which closed in midtown this weekend despite organized efforts to keep it afloat, this year saw the largest growth of chain retailers in the last four years.
Starbucks is eyeing Manhattan for its first glorified-kiosk "Express" store, but the total number citywide actually dropped by one. Subway and McDonald's, No. 1 and No. 2 in number globally, only added one store and five stores, respectively, while Burger King, Popeye's, and Papa John's shed multiple locations. Those who were happy about the city's fro-yo bubble burst can gloat about slight declines at Pinkberry and 16 Handles. And while Sweetgreen's mini-empire of three stores missed the cutoff to qualify, there were notable gains for Just Salad, Hale & Hearty, Pret A Manger, and Chop't, signaling that New York is really getting into mixed greens.