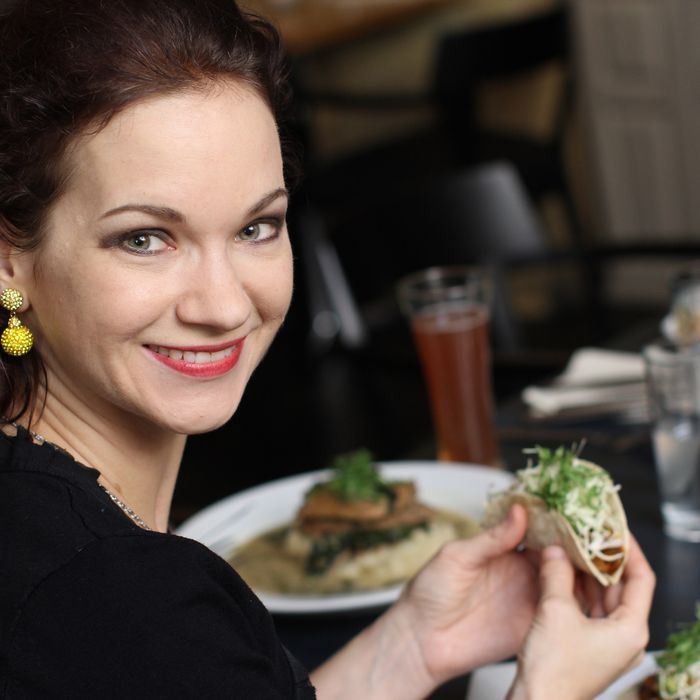 Hahn, with mushroom tacos at Blossom.
Photo: Melissa Hom
"Every time I go somewhere, I try something that I haven't had before," says concert violinist Hilary Hahn. "And I go somewhere every week, so it's great." Hahn was back in New York last week to perform with the New York Philharmonic, which meant she was also able to spend Thanksgiving in the U.S. (even if her busy schedule meant she couldn't make her Thanksgiving spread entirely from scratch). Of course, being in Manhattan also allowed Hahn to spend some time wandering around the Upper West Side between concerts and catch up with family before jetting off to Iceland for a few days of vacation and catching a Northern Lights viewing from her temporary living room. Read all about it in this week's Grub Street Diet.
Thursday, November 27
The night before was my first concert of a series with the New York Phil. I was still somewhat jet-lagged because I finished a European tour a few days before, so I'd been waking up very early in the morning. But I managed to sleep until 7:30 a.m. for the first time, which was nice. Plus, I had the day off because there's no concert on Thanksgiving. And it was my birthday, so that was cool, because I got to have a feast and gathering.
I did a lot of cooking in the early afternoon. I was responsible for the turkey, but I cheated a little and ordered a precooked turkey from Whole Foods, which you can just heat up in the oven. I figured it was okay since I'd be taking the turkey to someone else's house, I'd played a concert the night before, and I was staying in a rental apartment, where, it turned out the oven was very unpredictable, so it could not be expected that I'd do everything from scratch. But I did cook everything else. I made gluten-free stuffing, which I managed to burn, but it was okay — I was the only one eating it and someone else made gluten stuffing, and stuffing's so great that I wouldn't want to force people to eat the alternative version when they can have the real thing. I also made an apple-fennel-celery salad with toasted pumpkin seeds that went over really well. There were baked apples with raisins that I soaked in rum, and I made pumpkin pie, one of which turned into my birthday pie.
The actual gathering was on Long Island, so the food had to be transported. When I got there, we had lots of things that other people brought, too. I liked the sweet potato puree with vanilla bean that was really good, and jarzynowa, a Polish chopped salad with lots of mint, vegetables, and some little minced pickle bits and peas.
A friend from London joined us, too, so we had representatives from various counties. It was nice because I think Thanksgiving is about bringing people together, even if it's not their tradition, and making sure everyone has a place to be with other people. I really like that aspect of it. And my friend did great her first Thanksgiving — nailed it.
I did the classic pass-out-on-the-couch-after-dinner thing. I took a really long nap but wound up staying there overnight.
Friday, November 28
I had a Polish drink called kompot. It's like a stewed fruit drink, with the fruit in the pitcher. It's really sweet and really delicious, so I had that warmed up with my leftover baked apple for breakfast.
Then I went back to the city. Lunch was salad and pie, which was even better on day two, before I left for the hall for a concert that night. Once I got there, I had a mint tea with a square of chocolate and a tangerine. My gown did not adjust for the Thanksgiving pig-out, so I just had hot and sour soup after the concert while I watched an episode of Masterchef Junior. I love that show. Those kids are so good.
Saturday, November 29
I had more baked apples for breakfast since they still were not all eaten from Thanksgiving. For lunch, I sautéed some maitake mushrooms and had them over brown-rice fettuccine. I had a matinee and a concert in the evening, so I wanted a hearty lunch before I left for the hall. And since I wasn't sure what I'd have backstage, I packed some hummus, veggies, raisin bread, and grapes. I drank another mint tea, too.
After the matinee I met up with a friend who's a jazz player and we went to Peacefood on the Upper West Side. I got Thai coconut split pea soup, then some hummus and a tangerine before the second show. I also made a note that I had Tic Tacs, because I always have them when I go onstage — a Tic Tac in each cheek. I just keep them in my mouth because onstage as classical musicians we don't take glasses of water or anything, and you can get a dry throat. The Tic Tacs help, and keeping them in my cheek means I won't swallow them by accident.
Later, I went to Blossom on Columbus and got the mushroom tacos and the nachos. The mushrooms were really delicious — all the toppings matched really well, too, so that was good. And it was fun to celebrate since I'd just finished the final concert of the week.
Sunday, November 30
I repacked my suitcase because I was going to Iceland, and ate a couple pieces of gluten-free raisin toast and some tangerines for breakfast. I went to Organic Avenue for lunch, and had lentil soup and Brussels sprout slaw. It was really good.
I stopped by a friend's house before going to the airport and we had homemade cod with vegetables, mashed potatoes, and rice for dinner.
My flight was delayed, but luckily I was given a pass to the British Airways lounge, so I had two bowls of Moroccan lentil soup and, I have to say, it was wonderful. I stocked up on M&Ms; and potato chips because it was free, so why not?
Monday, December 1
After the overnight flight, I arrived at the cabin I'm renting and opened a package of rice coconut cookies that a friend had given me in Germany. I just needed to eat something before I could go to the grocery store and get real food. I wasn't very hungry, but later I had some antipasti and homemade miso soup for dinner.
The cabin is far enough outside the city that I could see the northern lights, which I'd never seen before. One wall is floor-to-ceiling windows, so I could turn off all the lights and watch the sky, so that was perfect.
Tuesday, December 2
Hello, vacation; hello, jet-lag — again. I woke up at 12:45 p.m. and made homemade French toast for brunch. There's a town called Borgarnes that's about an hour from Reykjavik. I went to a little café there for dinner and it was really good. There was a spicy bell pepper soup and a fish called ling, which was local. It's not cod, but it's very similar. They served it with cream sauce and sauteed vegetables. For dessert, I had rice pudding with these little bowls on the side — cinnamon sugar, raisins, and cream. It was like a custom flavoring situation.
Wednesday, December 3
I had a meeting in Reykjavik in the morning, so I started the day with a hummus platter for late breakfast at a little café in the city. Then I went to Fish Company restaurant for a late lunch. I had slow-cooked salted cod. The plate had a lot going on. It was served with wild mushrooms, pumpkin puree, roasted potatoes, toasting pumpkin seeds, baby greens, pickled ginger, and mushroom foam. It was like a different dish in every bite.
Traveling so much is really fun from a food perspective. I tend to rent places that have a kitchen setup so I can cook, but then I can go out and try new restaurants, too. It's the best of all worlds.