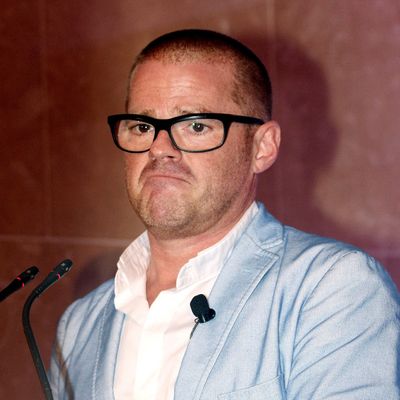 Heston hates it.
Photo: Brett Robson/Splash News/Corbis
If there's a chef whose reputation hangs on ethically sourcing foie gras, it's the man behind the Fat Duck, and so Heston Blumenthal says he has severed ties with foie gras supplier Maison Mitteault after a U.K. newspaper posted stomach-turning footage of mistreatment that allegedly occurred on the farm.
The video, which was picked up by the Mirror, was unlike other, similar undercover investigations that persuaded chefs like Joël Robuchon, Alain Ducasse, and Gordon Ramsay to rethink their foie gras purveyors. It was shot over five months by a person or group the Mirror does not identify. It depicts birds with slit abdomens, bloody throats, and vomit caked to their feathers, many of them visibly struggling to breathe.
On a previous visit, the Fat Duck team says they were basically shown a utopian-seeming, free-range family farm where ducks "only com[e] inside to feed in individual pens." In the video, birds are stuck in battery cages and are distressed. "The findings of this article have alerted us to what seems to be a change in practice and we have immediately ceased to use Maison Mitteault," a restaurant spokesperson said.
Louis-Marie Mitteault, the farm's owner, also agreed that the images are shocking, but told the paper that they need verifying. "If they were taken on my farm, and I am not sure they are, then I would be very angry," he said.
Related: Animal Rights Group Persuades Joël Robuchon to Drop Controversial Foie Gras Supplier
[Mirror UK]