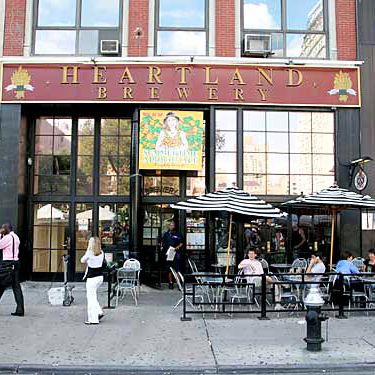 This one opened in 1995.
Photo: Robert K. Chin
Eater confirms that the first Heartland Brewery, opened by Jon Bloostein in 1995 at 35 Union Square West, will close after tonight. The tourist-friendly brewpub has four other locations, of course, and Bloostein is behind the booming Flatiron Hall and Houston Hall in addition to being a managing partner at megalithic Guy's American Kitchen and Bar in Times Square. Still, the news is something of a bummer: It may be a long time since you had a pint at Heartland, but its exodus from the neighborhood seems like a particularly bad omen for its restaurant scene. If a giant beer hall with a high-profit namesake product, healthy price points, and a huge turnover can't make it, what hope is there for anyone else?
We pretty much already know the answer. Danny Meyer's Union Square Cafe will close at the very end of 2015, and there are rumors that Blue Water Grill — another high-volume tourist staple — may also be doomed. Meyer wrote in July that his rent has been tripled at the combined 6,600-square-foot space, and one piece of marketing suggests the two restaurant spaces could be connected through their lower levels. Even the long-awaited Union Square Pavilion barely made it through one season.
Last year, Bloostein said his rent had spiked to $450 a square foot, or around $2 million total for the sprawling space. A real estate broker who focuses primarily on restaurant industry spaces recently told Grub that the Union Square and Flatiron Corridor asking rents now range between $100 and $500 a square foot, with an average of $275 per square foot. The astronomical figures create an inhospitable climate for the hospitality industry, and all but guarantee that the incoming food tenants will probably be more along the lines of gourmet cupcake factories or jumbo candy emporiums than traditional restaurants. It's all the more reason to visit the Greenmarket, then grab lunch someplace close by.
[Eater NY]