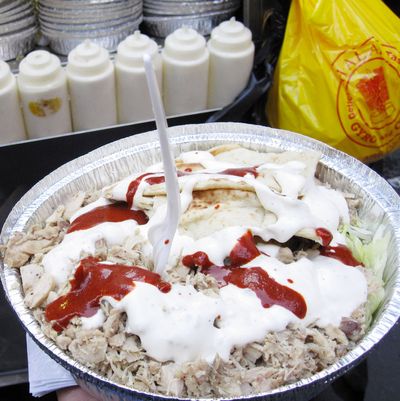 Loaded with globs of delicious white whateverness.
Photo: Chris Goldberg/Flickr
Here are some things that, in the two decades it's been around, intrepid food writers and recipe tinkerers have determined were a part of the Halal Guys' famed white sauce:


Half mayo, half Greek yogurt.
Miracle Whip, not mayo.
Ranch dressing, Greek yogurt, and sour cream.
"Powdered heroin."
And from just last week, tahini.


Liberally dispensed from squeeze bottles daily, it has remained a street-cart trade secret on the order of the KFC Original Recipe — the Times most recently said co-owner Mohamed Abouelenein "allows that there's mayo in it; the rest is silence" — until now. An observant Halal Guys-going reporter at DNAinfo noticed the white sauce had moved mediums and now comes in packets instead of from squeeze bottles, possibly to lay the groundwork for that global fast-halal chain they envision. The official ingredients are:

Soybean and/or canola oil
Egg yolk
Vinegar
Water
Salt
Sugar
Natural flavors
Black pepper
Disodium EDTA
Xantham gum
Sodium benzoate


The first three are mayonnaise (which we already knew), but outside of the preservatives necessary for packaging and some givens (salt, black pepper, sugar), the veil of mystery largely remains intact — notably, yogurt and milk don't seem to be among the ingredients. Here's to another two decades of theories; it looks like unicorn tears are still a distinct possibility.
[DNAinfo]