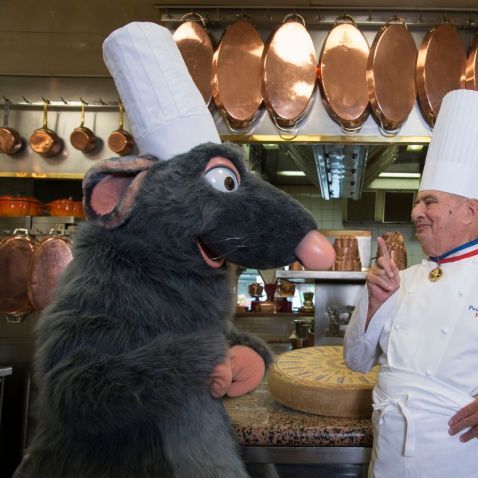 Let's hope these two all-stars get involved.
Photo: Disneyland Paris
The government of France, it seems, is worried that "the Anglo-Saxons" are conspiring to "dethrone" them as masters of the culinary world. So now, in true superhero narrative form, the Foreign Ministry has launched a "gastrono-diplomacy" that proposes easing immigration laws so foreigners can stage under its chefs. They're also recruiting many-Michelin-starred superstars Alain Ducasse and Guy Savoy to devise a 20-point plan.
It comes out next month, but according to a draft seen by the Telegraph, the duo recommends things like limiting starters and mains to no more than three to keep quality high, and also cooking with fresh local ingredients, not the readymade stuff used in enough French kitchens these days that the government recently introduced a "homemade" label in hopes of publicly shaming them. The chefs say this hasn't worked anyway, because food can still be frozen or vacuum-sealed. Finally, to put online review sites like TripAdvisor in their lowly place, they suggest taking out more ads. Also, for some reason, they're inviting Steven Spielberg to dinner.
Even if it seems a little wonky, the plan amounts to a serious attempt to change the critical tides. These days, Tokyo has more three-Michelin-star restaurants than Paris, and no French eateries this year made the World's 50 Best Restaurants' top 10. Only five are on the list at all right now. The ministry says the ranking, by a U.K.-based magazine, is unethically "influenced," so France has to step up to "re-enchant the world." That already began this week, of course, when living legend Paul Bocuse unbuttoned his chef's jacket a little to show off the totally radical rooster tattoo on his shoulder.