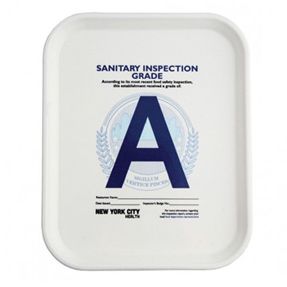 No "C" plate, apparently.
Photo: Courtesy of Fishs Eddy
When they're not shutting down Joe's Shanghai or having multiple issues with Per Se's sous vide technique, the city's Health Department apparently enjoys browsing tableware at Fishs Eddy in Flatiron, which is where they discovered a line of trays and towels based on their letter grades. It was just this year that Mayor de Blasio announced plans to lower restaurant-inspection-related fines, mostly in response to criticism from restaurateurs who say the letter-grade system is used at will to generate revenue, so the news that the city is now pulling in royalties and an 8 percent cut of sales from the themed merchandise maybe isn't the best look.
The store had apparently introduced a version of the merchandise when the city "called immediately" with complaints. Fishs Eddy had previously invoked the ire of the Port Authority over its long-running WTC- and Holland Tunnel-patterned dishware this year, but kept selling the items; they weren't as lucky in this case. "They made it clear we should be working with them. I like our version. I wasn't seeking the collaboration," says owner Julie Gaines.
So far, maybe because there are no "C" plates and "Grade Pending" towels, or bright yellow "Closed by order of the commissioner" plates, this partnership isn't nearly as lucrative as the millions in fines the agency doles out to establishments: According to the Daily News, the "A" and "B"grade items — $9.95 to $16.95 — have only generated $1,800 this year.
[NYDN]