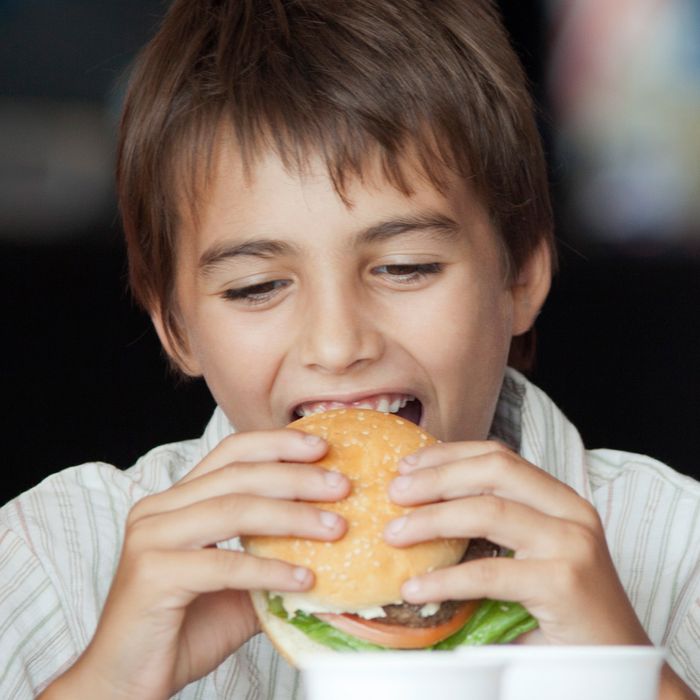 Put the burger down.
Photo: Ale Ventura/Getty Images
Researchers from the University of Texas at Austin and Ohio State University looked at data from 8,544 young students enrolled in schools nationwide to demonstrate a "predictive" relationship between increased fast-food consumption and lower reading, math, and science test scores. The study measured the eating habits of 10-year-old kids, then followed up with the same group three years later. Kelly Purtell, a Ohio State professor and one of the authors, says the findings generally suggest "poorer academic outcomes" for those who had things like chicken nuggets for dinner. Kids who ate fast-food meals every day scored four points lower on tests in science than kids who didn't eat fast food at all, the researchers write.
The study's authors say that they built "confounding variables" such as "socioeconomic indicators, physical activity, and TV watching" into its structure, and the results seem to be more bad news for the chains and their youngest customers. There's ample evidence that including toys with kids' meals, for example, doesn't really help encourage healthier eating choices, and separate studies indicate that high fat and sugar diets cause hippocampal inflammation in rats, impeding memory. And the newest study's results are alarming enough long before the researchers reach their conclusions: Half of all of the kids studied ate fast food up to three times a week, they write, and one in ten ate the stuff every single day.