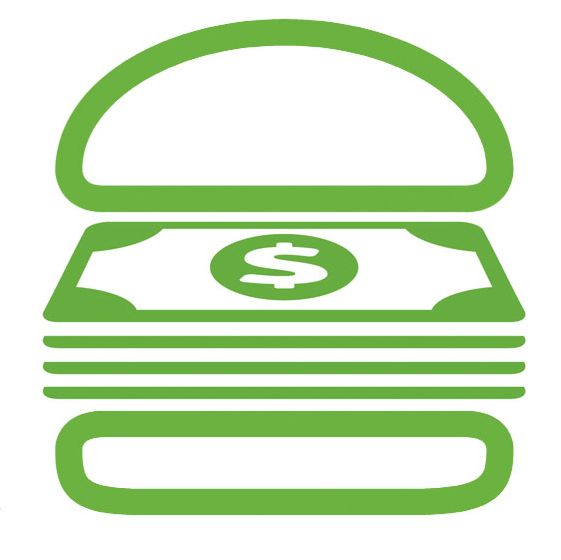 Do delicious fast-food burgers equal big bucks?
Photo: Shake Shack; Photo-illustration: Jed Egan
Shack Shack's upcoming IPO is very exciting (and not just for people like Danny Meyer and CEO Randy Garutti who stand to make a lot of money). But will the stock, potentially traded under the ticker symbol SHAK, actually be worth buying for the layperson once it's available? To find out, Grub asked an expert: Aasim Khwaja, a managing member and portfolio manager at KL Investment Partners. Here's what he has to say.
The positives are that SHAK has very strong global growth opportunities via its unique positioning as a fine-casual, quick-service restaurant focused on the burger market, which is the largest dine-out segment in the U.S., with more than $72 billion in industry sales. Global growth has high potential due to SHAK's strong brand ("born and raised in Manhattan") and cool history (small hot dog stand becoming a global phenomenon). It is very profitable, with operating margins greater than 20 percent.
But, while I'm not recommending not investing, one has to be wary, given the history of how these things work. Investors who get access to the IPO shares from underwriters (very difficult to get access), will likely do very well. But all other investors, who buy on the first day of trading, are likely to lose money.
How does one get access to shares from underwriters? Underwriters are the people who control who gets the shares on the first day at the IPO price. They exclusively have that right to decide, so they give it to their best, high-profile clients. Those clients can get the shares before they start trading to the public at lower prices. The probability of them making money is very, very high.
But if you don't get access to shares from underwriters, it's very tricky, no matter how successful a company is: From a pure investment standpoint, it's hard to make money. You're buying on the first day with everyone else, and it's a moment of excitement. People are paying sometimes irrational prices, and you're joining in the body at that point. The probability is that the hangover is not too far away. It's like going to a party when it's peaking. And soon enough, people start to throw up.
The first day is called the IPO "pop." The first time anyone can buy on the retail side, it'll be more expensive to trade the same shares. And it won't necessarily work out if you wait for a longer period of time. In most cases, you'll still lose money if you buy shares after it starts trading on the stock exchange. The rich guys make money in almost every single case, because high-valued clients are given shares at a lower price. The retail guys, who can't get access to this exclusive deal, will lose money four out of five times.
The most exciting thing about an IPO is the growth opportunity: That's the real reason these smaller companies go from private to public. There are about 63 Shake Shacks around the world, and it's not unreasonable to believe that they can grow to at least 450 locations in the U.S. alone — their official predictions. There are dramatic growth opportunities. If there is a home-run, you will make money for buying it on day one. For example, Chipotle, which came out in 2006 as a spinoff from McDonald's, has stocks that are up. So if you bought Chipotle stocks on day one, two, or three, you still made a ginormous amount of money — even if you were a retail guy.
The warning is that for every Chipotle, there's a Cosi, which has been a disaster. It never really grew to become a phenomenon. Shake Shack could become Chipotle, of course, and you could make a lot of money. But not too many make it. Things go out of fashion for all sorts of reasons.
Again, I'm not saying don't do it. It's a very, very good story with good growth opportunities and positioning. That's all exciting. But one has to temper the excitement with the reality of how these things have worked out in the past, like in the cases of Potbelly and Noodles & Co. If you get in after the huge pop, it could be like what happened with Facebook. There was so much excitement at the IPO. It's a brilliant business. But people got slaughtered.