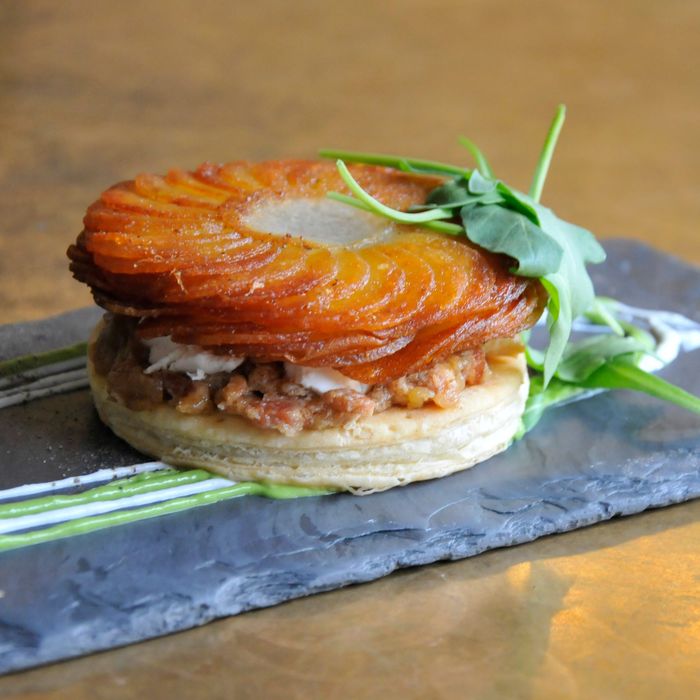 Alder's tart with potato, bacon, and goat cheese.
Photo: Courtesy of Alder
Brunch doesn't always get a lot of respect, but the fact is that, in New York, anyway, quite a few great restaurants take this weekend staple seriously. And why shouldn't they? It's one of life's little mini-luxuries to sleep in and have someone else cook for you — especially if it's something other than an omelette, granola parfait, or the same old eggs Benedict you can get practically anywhere. Spots like Uncle Boons, Birds & Bubbles, and Huertas are offering unique, interesting new dishes. Here's a baker's dozen of Grub's favorites.
The Dish: Green Eggs and Ham
Where: Birds & Bubbles
Price: $14
Sarah Simmons launches brunch service this weekend, and a highlight of the menu is this dish with pozole verde, soft-boiled eggs, hominy grits, and tasso. There's also something called a Christmas Casserole: breakfast sausage, egg-and-Gruyère custard, and a buttermilk biscuit.
The Dish: Mangalista Pork Burger
Where: White Street
Price: $23
Chef Floyd Cardoz serves his burger with kimchi slaw and a fried egg — all good things. Plus: During Sunday brunch in December, you can enjoy live jazz music from Sweet Megg & the Wayfarers.
The Dish: Revueltos
Where: Huertas
Price: $15
Spanish food makes for great brunch food, of course — but there's more on the menu here than tortilla Española, jamón sandwiches, and churros. Try this scrambled-egg dish, with shrimp and shishito peppers.
The Dish: Pat Kra Powi
Where: Uncle Boons
Price: $16
Uncle Boons just reintroduced brunch, so you now get to start your day with dishes like short-rib stir-fry with holy basil, Thai-style fried eggs, and jasmine rice. Or, for something a bit more tame, there's baked eggs in green curry with water spinach and jasmine rice.
The Dish: Patate Alla Carbonara
Where: Marta
Price: $17
All of the critics are fans of this particular pizza, with potatoes, guanciale, black pepper, Pecorino, and a runny egg. And for dessert, there's griddled bread pudding with apple-ginger compote.
The Dish: French Toast
Where: The NoMad Bar
Price: $19
This is some fancy French toast, with fried chicken and bourbon-glazed apples. Add a cup of boozy hot chocolate on the side.
The Dish: The Big Tex
Where: Long Island Bar
Price: $8
How about a breakfast pastry with ham, cheddar, and jalapeño, plus a Manmosa (Kölsch beer and orange juice — better than it sounds) to wash it down?
The Dish: Poached Oysters and Periwinkles
Where: Maison Premiere
Price: $17
Oysters and Champagne are a killer way to start a Sunday. Chef Lisa Giffin poaches oysters and periwinkles in cream with leeks and potatoes, then tops them with poached eggs and caviar.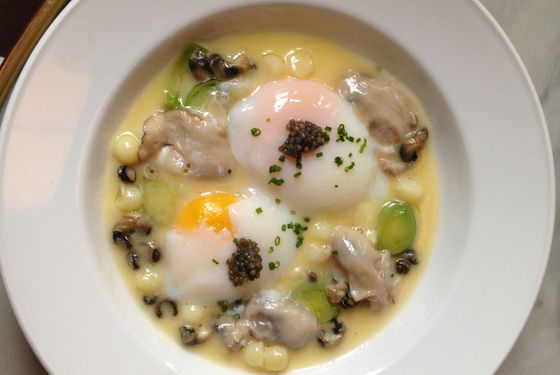 The Dish: Beijing Pancake
Where: Martha
Price: $14
A savory crêpelike pancake gets filled with scrambled eggs, cured sweet Chinese sausage, herbs, and topped with Martha's signature umami-rich, black-vinegar-based sauce.
The Dish: Brunch Paella
Where: El Colmado at Gotham West Market
Price: $13
This dish changes week to week, depending on which ingredients are in season. You can count on local vegetables, crispy rice, and a runny egg on top.
The Dish: Khao Biec Sen
Where: Khe-Yo
Price: $13
At Soulayphet Schwader's Laotian restaurant, he serves a dish comprised of rice noodles, eggs any style, and a choice of two garnishes: Chinese-style fry bread, fried garlic and pork rinds, pickled Thai chilies and jalapeños, sesame beef jerky, shiitake-mushroom jerky, or roasted hen of the woods mushrooms with brown butter.
The Dish: Fried-Oyster Breakfast Taco
Where: Greenpoint Fish & Lobster Co.
Price: $13
New York's not a city known for its breakfast tacos, but this one's a contender: soft-scrambled eggs, shaved bottarga, pickled jalapeños, chipotle mayo, cilantro, and two plump, fried oysters atop grilled corn tortillas.
The Dish: 71 Potato, Bacon, and Goat-Cheese Tart
Where: Alder
Price: $17
Remember: You can still enjoy Wylie Dufresne's food at Alder, where his brunch is filled with kooky, adventurous dishes. This tart, which originated on his menu at 71 Clinton Fresh Food, is made by layering bacon-and-onion marmalade, goat cheese, and pommes Anna on a puff pastry.