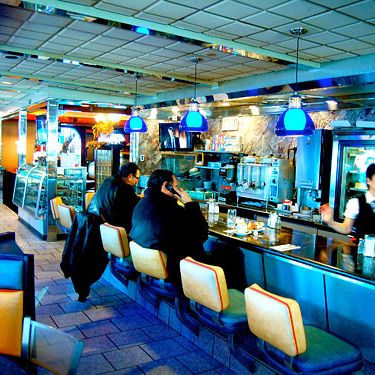 RIP El Greco.
Photo: Patrick Siggins
The word institution is overused these days in connection to the city's dwindling population of genuine dives, cafés, and luncheonettes that have perhaps served one too many flat colas or plates of freezer-burned fries. The word is particularly apt, though, when used to describe El Greco Diner in Sheepshead Bay, which closed last week after 40-odd-year run. Sheepshead Bites blogger Ned Berke valiantly chronicled its demise, and now there's official word of its replacement: A developer "plans to raze the diner and construct a 90,000-square-foot condo building with ground-floor retail space in its place."
Café Edison, Benny's Burritos, and the 110-year-old Di Robertis Caffé all closed in the last month, and the loss of El Greco is more of the same: Its regulars relied on it. The diner was never not busy, serving spinach pie and linguine with clam sauce in its neon-trimmed dining room, which was wall-to-wall booths. The place wore its 2.5-star Yelp review average like a badge of honor, and even those who slammed the food — "corn beef hash was very salty while the home fries were bland" — had nice things to say about the service. New York's write-up singled out its roster of 33 kinds of wraps and enormous portions. The Post called it a "diner's diner." Sheepshead Bites wrote that "Everyone in this town has a '3 a.m. at El Greco' story."
In what sounds something like a common refrain, a real-estate handout touted that the 41,700-square-foot lot was conveniently close to a "Bally's Fitness, Applebee's, Marshall's, Loehmann's, Citibank, and Chase." It's almost certain, in other words, that El Greco won't be replaced by anything like it. Thankfully, notes Berke, there are eight other greasy spoons operating in the outer orbit of its former Emmons Avenue home.