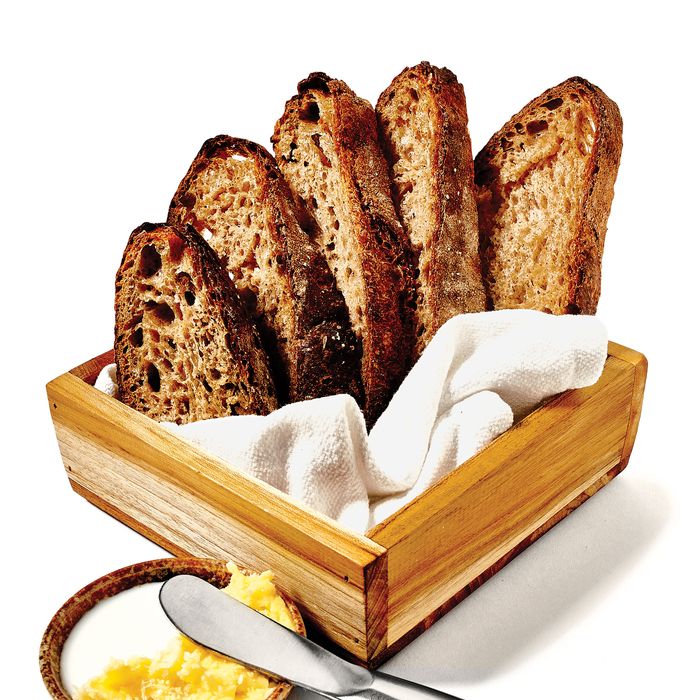 Photo: Bobby Doherty/New York Magazine
As far as we're concerned, the debate about whether restaurants should charge for bread is over with the naturally leavened loaves Pam Yung serves at her and José Ramírez-Ruiz's prix fixe tasting room, Semilla ($6 à la carte, or part of a $75 prix fixe). Yung mixes the dough by hand. It's made from a combination of ancient grains (some of which Yung mills herself) and organic flours. The bread arrives somewhere in the vicinity of warm and hot, five slices to the wooden basket. Its complex flavor speaks to the magic of long fermentation and precision technique. One bite, and six bucks seems like a steal. Yung did a stint at bread guru Chad Robertson's Tartine, plus a handful of Europe's best restaurants and bakeries, but she's quick to point out that she has no formal bread-baking training. This must be terrible news for formal bread-baking training facilities everywhere.
On the menu at Semilla, 160 Havemeyer St., nr. S. 2nd St., No. 5, Williamsburg; 718-782-3474.
Photo: Bobby Doherty/New York Magazine
*This article appears in the December 15, 2014 issue of New York Magazine.
Related: First Look at Semilla, Williamsburg's Newest Chef's Counter