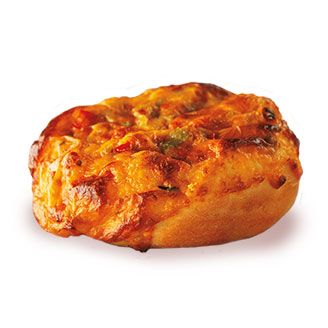 Go ahead, have pizza anytime.
Photo: Dunkin' Donuts
Just like White Castle grew up and put away its perforated and steamed beef patties in favor of Dr. Praeger's all-vegetable sliders, Dunkin' Donuts is rounding out its recent upscalification with two new items: a humble chocolate croissant and a more elaborate Tomato Mozzarella Supreme Bagel, otherwise known as a pizza bagel.
The croissant, which is really just a pain au chocolat without all of the fancy French-language stuff, is available nationwide at participating locations and would seem to be the next logical step after the chain's great success with fake Cronuts. If this trend continues, pretty soon people may even be saying, "I'm headed off to the patisserie," when in fact they just mean the Dunkin' Donuts wedged between the Lukoil station and the sad, old Blimpie on the highway.
As you may have guessed, the chain's Tomato Mozzarella Supreme Bagel is a plain bagel loaded with those two things. (A touch of "herb topping" ties it all together and makes it supreme.) It costs $1.79 and is — alas — not available nationwide, but only in select markets.
But that may change. The new, determinedly non-doughnut menu items at Dunkin' Donuts were announced, after all, at the end of a particularly ambitious year in which the chain colonized California. Perhaps not coincidentally, chief executive officer Nigel Travis has announced that he's aiming to have 30,000 shops open in total, up from the worldwide Dunkin' roster of 11,000 locations now. Expansion efforts on the national scale and abroad are set to ramp up in 2015, and a significant part of the model depends on selling things other than coffee and pastries. Cheese and marinara sauce may turn out to be part of the broader plan after all.
[QZ, Brand Eating]