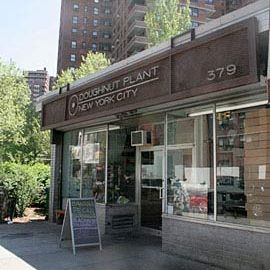 Doughnut Plant's LES shop.
Photo: Shanna Ravindra
It's that time of year when Doughnut Plant breaks out all kinds of festive flavors, such as panettone and gingerbread, but one former worker who is suing the business is evidently not feeling so festive. Mekhala Sofsky, a 30-year-old ex-supervisor at Doughnut Plant's Lower East Side flagship and Chelsea outpost, filed a lawsuit last week in Manhattan Supreme Court claiming she had been demoted twice and suffered a pay cut after informing her bosses she was pregnant.
The alleged discrimination also included cuts to her annual bonus and began in 2012, Sofsky says, when she informed Doughnut Plant founder and owner Mark Israel she was pregnant. According to DNAinfo, legal papers claim that Israel reacted by saying "he did not think Sofsky would want to come back to work after having her baby." The doughnut mogul, who opened his first Brooklyn store this month, allegedly later told Sofsky "she should really stay home" once she had given birth.
Sofsky's lawyer eventually sent a letter seeking an end to the "discriminatory and retaliatory conduct" after the alleged demotions, and she is now seeking "emotional and physical damages." In a statement, Doughnut Plant denied the charges, saying it adheres to "the spirit and the letter of the law" with regard to maternity and paternity leave, as well as pregnant employees.
[DNAinfo]