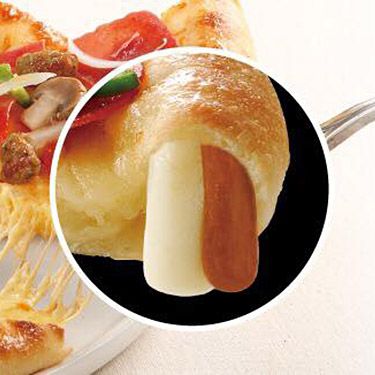 Yum?
Photo: Dominos Taiwan
The recent glut of innovation in stuffed-crust technology has most likely led to this thing, a pizza with toothpastelike twin globs of Taiwanese peanut sauce and melted mozzarella, which are obviously the first things everybody thinks of when tasked with coming up with pairings that complement mushrooms and pepperoni.
For all those who don't want a thread of gooey peanut sauce lurking inside their pizza, it does seem like this new one, combined with recent hits like the cream cheese cinnamon apple nut surf 'n' turf pizza, may be signs we've reached Peak Stuffed Crust: Domino's Taiwan has also introduced a no-bake fruit pizza, which looks to be just a lot of fruit on a watermelon "slice," with no bread anywhere in sight.