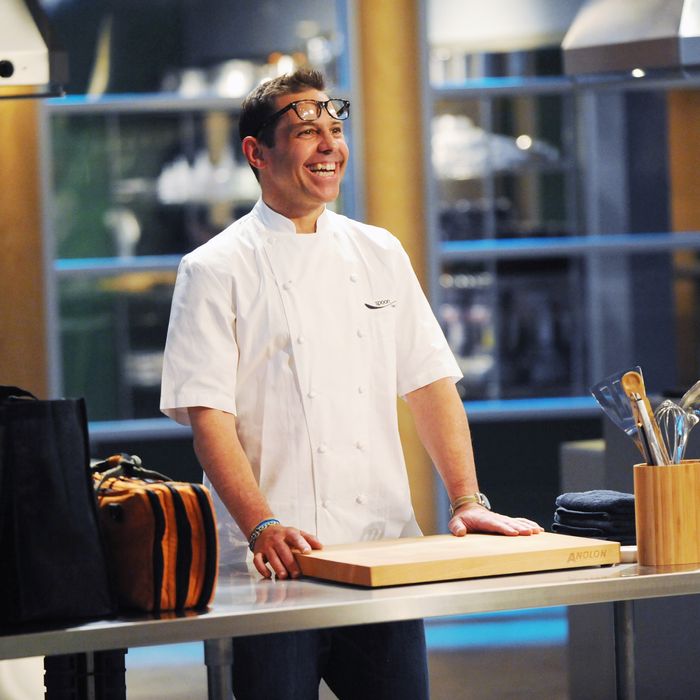 Dallas chef John Tesar has become the poster child of critic loathing.
Photo: Bravo/Getty Images
Leslie Brenner took over as restaurant critic at the Dallas Morning News in 2009. Thus far, her tenure has been nothing if not interesting. Recent highlights include a dust-up this past July, when chef John Tesar unleashed a not-exactly-nuanced attack (" … you have destroyed the star system and you really suck") on the critic via Twitter; in October, Brenner officially abandoned her anonymity (she explained it as an evolution in the social-media age; some people nevertheless felt it directly contradicted this 2009 pro-anonymity piece she wrote); and now a group of Dallas chefs have decided the best way to deal with Brenner is to simply stop allowing her to pay for meals, in theory setting up a conflict of interest for the critic that they hope will taint her reviews.
What does this group — which includes Tesar, along with the owners of places like Proof + Pantry and Lark on the Park — hope to accomplish? In part, according a story in the Washington Post:
… they're confronting a self-described "tough critic" whose five-star system, they say, cannot differentiate between a self-service three-star barbecue joint with minimal decor and a full-service three-star restaurant with a hip, rustic interior. They're lobbying for a more nuanced system that includes separate ratings for food, service and decor.
At the moment, however, the plan seems to be backfiring. First off, Brenner has successfully dined in costume (on Halloween no less) and can pay her tabs in cash. But in a larger way, the Post piece is proof enough that the local controversy is now a national story, which in turn just raises Brenner's profile further. Times critic Pete Wells brought even more attention to the story last night on Twitter:
New York's Adam Platt agrees, saying, "Controversy is a great gift to the lowly, formerly anonymous restaurant critic, especially in the internet age. By throwing this protracted hissy fit, the owners and chefs of this Dallas cabal are only increasing her power and playing into her hands."
But while the chefs' plan to shut the critic down doesn't appear to be panning out the way they might have hoped, the issue does (yet again) shine a light on the idea of starred reviews. Not necessarily Brenner's stars specifically, but about the entire system in general. Critics tend to make no secret of the fact that the star system is their least favorite part of the job — it's what most readers focus on and it tends to obscure any subtleties discussed in an actual review. Plus, as restaurants have gotten more casual, the stars themselves have lost some of their meaning. As Platt said back in April, "In this era, most of the restaurants we review tend to be two-star restaurants, because that's what's out there. There are more opportunities for a good meal, but fewer opportunities for what used to be defined as a great meal."
The point of stars is to quickly denote how good a given restaurant is in comparison to other restaurants. Traditionally, those stars were of course commensurate with a restaurant's scale and ambition, in addition to how well the staff executed everything. But when it seems like everyone's goal is to open a profitable, very good, casual restaurant, the long-established idea of four- or five-star dining disappears and the stars become based on quality alone. New York, like some other outlets, employs two separate star systems — Platt's, for more high-reaching restaurants, and the Underground Gourmet's system, for restaurants that are traditionally more casual. Even that gets complicated as the lines between the two types of restaurants become blurrier.
In New York, take Estela, for example — it is an excellent restaurant, seemingly accomplishing exactly the goal the owners set out to, which is to say run a small-but-outstanding place that is equal parts destination and neighborhood drop-in (ideally, if it were a little less crowded, anyway). The exacting nature of the food and drinks is sort of at odds with the casual service and vibe, which is partly what makes it so appealing but also sets up a dilemma: Is it a two-star restaurant with excellent food, or a three-star restaurant with a so-so dining room?
In reality, it doesn't matter — in the case of Estela, the restaurant is good, and full of diners, so who cares how many invented stars it has? Platt himself points out, "In the end, it doesn't matter what the critics say, or how many random, highly subjective stars an ambitious chef accumulates. Over the long term, the fortunes of a restaurant generally rise or fall based on the talents of the people who are in charge. That's the real bottom line."
But chefs, owners, and, to some extent, diners, still focus intently on those stars, and they can make or break business at a certain breed of restaurant, so why hasn't anyone actually created a new system that appeals to everyone? The anti-Brenner Dallas chef coalition is right to say it's time for something more nuanced — granted, a multi-category breakdown doesn't have the instant, romantic ring of "three stars," but it does convey more useful information, which is the main point of a restaurant review anyway.
Earlier: Chefs Versus Critics: Why Public Rage Attracts the Wrong Kind of Attention
Related: Platt Chat: Multi-Starred Restaurants and the Post-Gourmet Era of Dining