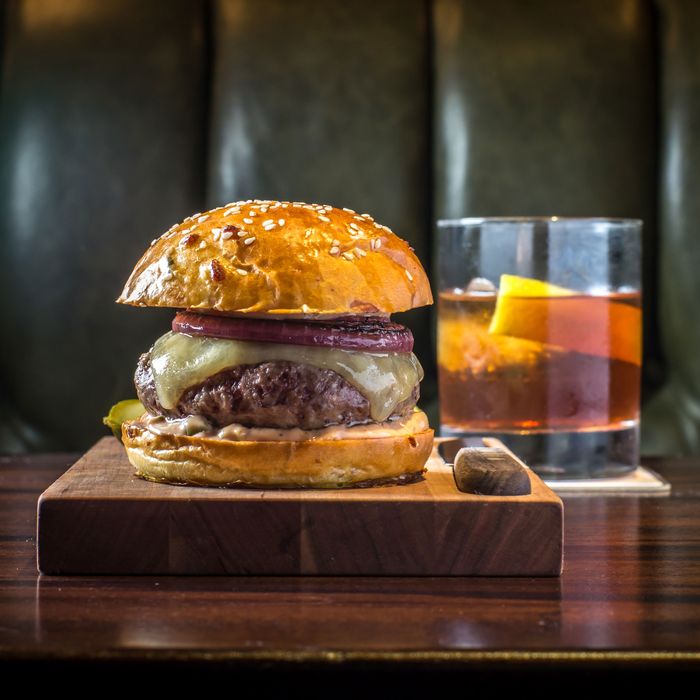 The NoMad Bar's truly excellent cheeseburger.
Photo: Paul Wagtouicz
In addition to naming their very favorite restaurants of the year, New York's critics tend to spend the last couple of weeks in December listing their favorite dishes of the year, too. As always, the critics have all sorts of differing opinions, so to save you the trouble of trying to figure out what's what, Grub's gone through all of the lists to come up with an aggregate list of the "best of" 2014 dishes that everyone generally agrees are the things you need to make a point to eat, if you haven't already. Here are the year's biggest hits, so you can check everything off your to-do list.
1. Prime Rib at Cherche Midi
The 12-ounce beef, which is aged for more than a month and served on the bone, is essentially "two steaks in one," according to Eater's Ryan Sutton. Times critic Pete Wells writes, "The considerable prime rib with pommes souffles and a nothing-fancy green salad feels like an event." And Bloomberg's Tejal Rao calls it "the foundation of a perfect steak-frites night." Our own Adam Platt's also a fan.
2. Pizza With Potato Carbonara at Marta
The pie to order at Danny Meyer's smash-hit restaurant is the one topped with potatoes, egg, Pecorino, and guanciale. Wells, Platt, and Sutton all praised it — Eater's Robert Sietsema says, "this pie constitutes the perfect equation of crunch, squish, and mmmmmm."
3. Chicken Schnitzel at Bâtard
Drew Nieporent and chef Markus Glocker's restaurant topped the year-end lists of Pete Wells and Adam Platt, among others. But it's the chicken schnitzel — technically, an off-menu special — that Wells and Sutton particularly like. And the caramelized-milk-bread dessert received a nice shout-out from the editors at Time Out.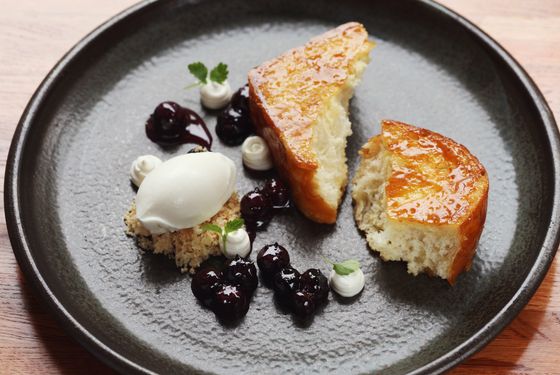 4. The Burger at the NoMad Bar
"The bar snack I can't get out of my head is the perfectly sized house burger, which is made with dry-aged prime beef, topped with a melting wad of Cheddar, and leavened, for an extra trencherman's kick, with sinful amounts of bone marrow and melted suet," Platt says. Others, like Sutton, definitely agree.
5. Bucatini With Smoked Uni at All'onda
Even the worst case of uni fatigue won't get in the way of enjoying Chris Jaeckle's pasta — which, according to Wells, is "worth a taste just so you can experience a carbonara made from sea urchin." Platt mentions it, too.
6. Octopus at Tuome
This (relatively) under-the-radar East Village restaurant quietly became a critical darling. This octopus, served with XO sauce and brown-butter espuma, differs from the usual. Wells and Platt both praise this dish — and Rao's a fan of the chicken-liver mousse.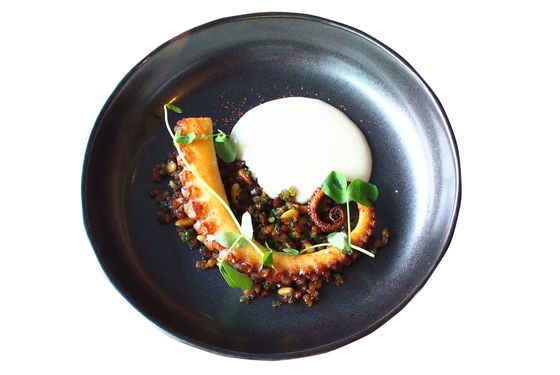 7. Mushroom Mille-Feuille at Dirty French
Regardless of any sentiments about the scene at Dirty French, most critics agree that this dish is a technical wonder. As Wells puts it, it's "not a pastry but an elegant mushroom terrine, with buttery, tender stems of king trumpets folded and folded, layer after layer." And Sutton adds, "This is the type of creatively delicious vegetarian fare diners deserve at more expensive tasting menu haunts like Per Se." (The kitchen's version of duck à l'orange also won over some critics.)
8. Fried Chicken at Root & Bone
The editors at Time Out named this the best dish in 2014 (out of 100 picks!), but the chicken's sweet brine turned off a few critics, too. Still, Sutton writes, "The flesh is gently sweet and assertively salty. The crust is properly crunchy. And it's all tied together with a sprinkling of lemon dust for a whisper of unexpected freshness."
9. Lancaster Okonomiyaki at Ivan Ramen
Who would've guessed that one of the most popular dishes of the year would include scrapple? Platt argues that Ivan Orkin's kooky riff on a waffle — made with buckwheat, chicken liver, pork, maple syrup, charred cabbage, and pickled apple — is "justly hyped."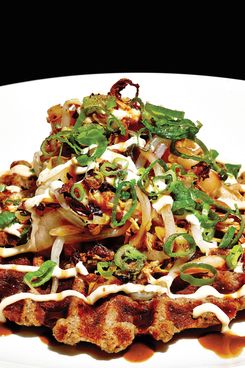 10. Spicy Chile Ramen at Ivan Ramen
Chase the okonomiyaki with this particular bowl of ramen — the Infatuation team says that it'll wreck you for the day, but it's 100 percent worth it. And Sutton also sings its praises.
11. Fedora Burger at Bar Sardine
This $13 burger comes with smoked cheddar, crispy potatoes, cucumbers, and BBQ mayo — certainly an odd combination at a great price point. It's won over many fans, including Platt and the editors at the Infatuation.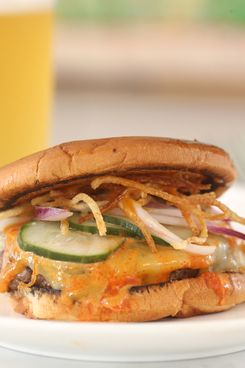 12. The Signature Taco at Empellon Al Pastor
An even cheaper dish is Alex Stupak's $4 taco, which is Sutton's favorite item on the new restaurant's menu — "balancing smoky chiles against musky, spit-roasted pork, and a slice or two of tart pineapple."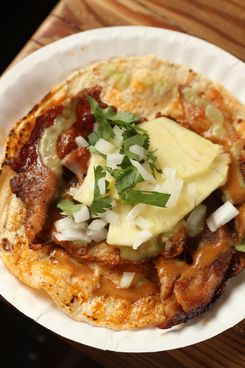 13. Linguine at Bar Primi
It seems like every critic has a different favorite dish at Bar Primi: Wells likes the hot-roast-beef sandwich, Sutton praises the seafood salad, the Infatuation team honors the Fiore di Carciofi … but it's Platt and the Time Out editors who single out the super-garlicky linguine.
14. Peking Duck at Decoy
The restaurant's signature large-format dish is well worth the splurge, according to Platt and Team Time Out. It even comes with shots of duck consommé.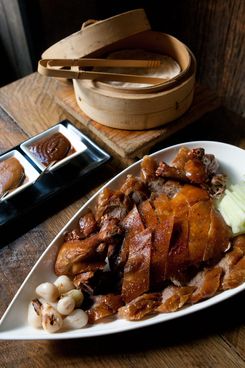 15. The Breakfast Sandwich at Estela
Get over any fear of a little meal called "brunch" and start your day at Estela, where Ignacio Mattos stuffs an egg, some avocado, and pancetta inside a Danish pastry — a dish that's beloved by Sutton. And Platt says to order the egg-topped "blood cake" sausage.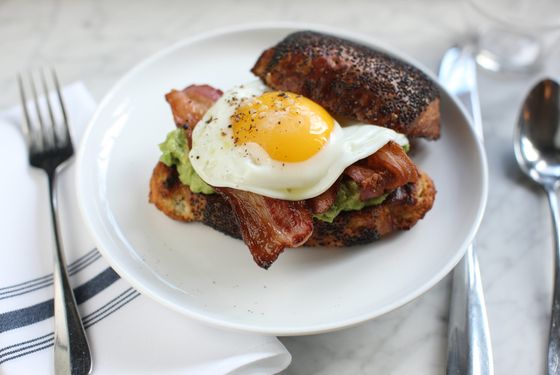 16. Bread With Butter at Semilla
It's only a matter of time before José Ramírez-Ruiz and Pamela Yung open their own bakery: Rao, Platt, and the Underground Gourmet have all written about the excellent einkorn-buckwheat bread. Rao says it even rocked her world.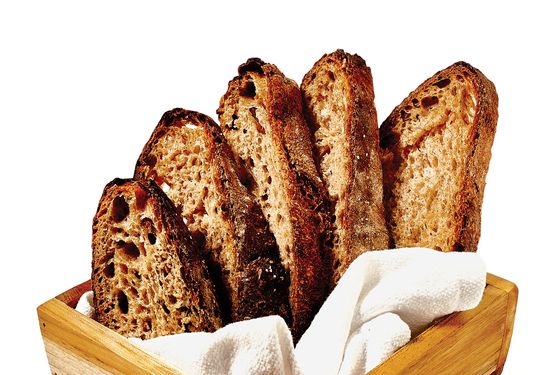 17. Corn Pudding at Cosme
This "creamy, crunchy Mexican take on the Australian pavlova," according to Sutton, looks as good as it tastes.
18. Migas at Huertas
Chef Jonah Miller's take on this Spanish classic changes regularly, but its variations nevertheless manage to rack up some accolades. Sietsema loves the duck-studded option, while Rao admires the lighter vegetable version. No matter what, you really can't go wrong.
19. Poussin With Rice at Bar Bolonat
There have been many, many iterations of chicken for two this year, but Einat Admony's version includes a pomegranate glaze, potatoes, and turmeric-spiced rice. Other favorites at the West Village restaurant: halva creme brûlée (Sutton) and the Jerusalem bagel (Sietsema).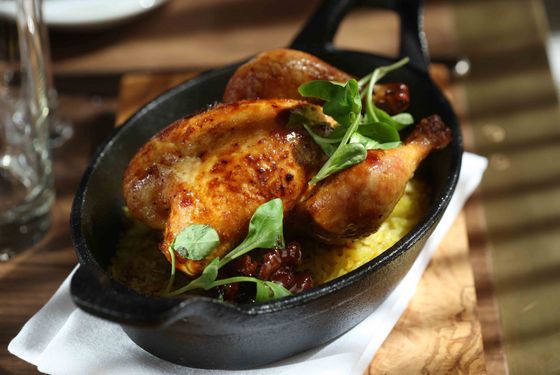 20. Rotisserie-Crisped Beets at Narcissa
Chef John Fraser treats beets like high-quality meat, roasting them slow and low for up to five hours. As the editors of Time Out explain, he "coaxes new personality out of the humble, deeply-hued vegetable."