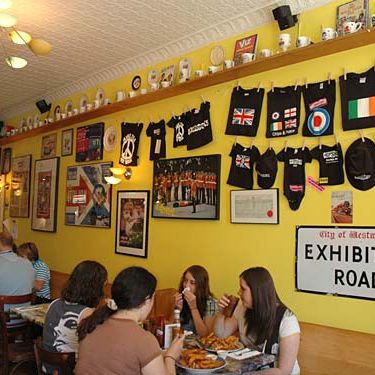 Chip Shop opened in 2001.
Photo: Stephanie Land
Two of brownstone Brooklyn's most recognizable neighborhood spots are closing: Chip Shop, which has touted its quirky British roots and punk influence for nearly 14 years, and the adjoining Corner Burger, which specializes in poutine as well as hamburgers.
In addition to offering English breakfasts, the house specialty, and deep-fried Mars bars, which were good for a handful of shocking Food Network segments early on in the restaurant's history, Chip Shop earned a reputation for frying everything from Twinkies to pizza to mac 'n' cheese — cooks even fried random foodstuffs brought in by customers. The Union Jacks and Sex Pistols-esque décor will live on at its Atlantic Avenue location, but Fifth Avenue's fryers will be turned off on December 24.
Reps from both businesses tell Here's Park Slope that business hasn't been great. Corner Burger may close as soon as tonight, and is currently pouring beers at a flat $3 a glass. Realtors are marketing the next-door spots as one space.
[HPS]