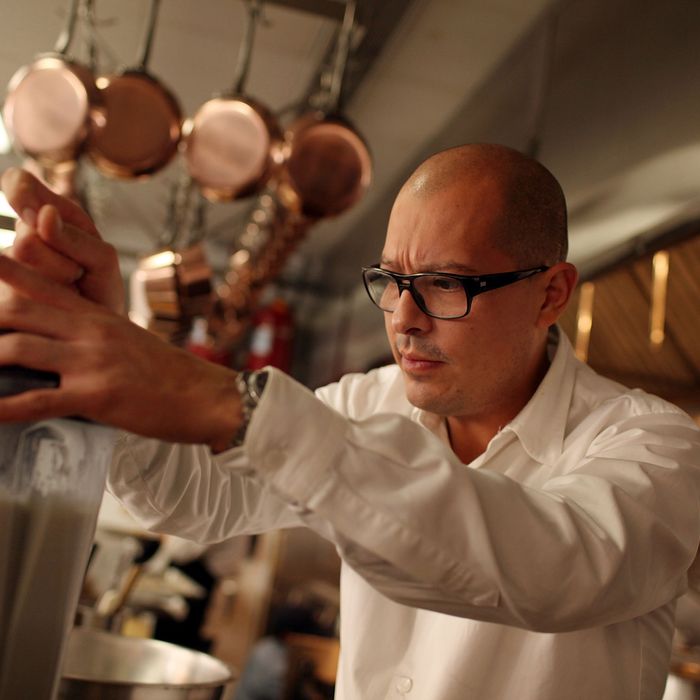 César Ramirez in his kitchen.
Photo: Spencer Platt/Getty Images
A lawsuit filed yesterday in United States District Court by five former workers at the original Chef's Table at Brooklyn Fare stands to sink the reputation of the lauded restaurant and its soon-to-open Manhattan counterpart. The plaintiffs are being represented by Maimon Kirschenbaum, the same lawyer who has carved out a name for himself over the last decade going after Le Cirque, Le Bernardin, Daniel, Bouley, and Babbo in wage-dispute lawsuits.

With its three Michelin stars and past accusations of Ramirez's allegedly mercurial behavior, Chef's Table at Brooklyn Fare certainly fits the profile of the kind of restaurant that would draw Kirschenbaum's attention, even though anyone who's been to the restaurant knows that the operation is spartan and service is conducted by just a handful of employees. The former sous chef, prep cook, back server, and two servers who say they were underpaid would seem to represent a proportionally large number of staff members.
But while most of Kirschenbaum's suits focus on finances, this latest one includes more troubling allegations leveled by Emi Howard, an Asian-American server, against chef César Ramirez. Howard claims that Ramirez was racist toward Asian customers — and, strangely, "Upper West Siders" — making particular demands and treating them differently. Here's a passage from the lawsuit:
36. Defendant Ramirez routinely referred to Asian customers as "shit people."

37. Defendant Ramirez many times instructed Ms. Howard not to place "shit people," i.e., Asian customers, at the parts of the kitchen counter that were closest in proximity to his own place, the center.

38. When a large piece of meat was cut into many pieces for the guests, Defendant Ramirez instructed Ms. Howard to give the worst pieces of meat to the "shit people," i.e., Asian people, and to "Upper West Siders."
Brooklyn Fare owner Moe Issa responded with a statement that reads, in part, "We pride ourselves on the diversity of our staff," and, "we welcome everyone who comes through our doors."
As is typical in cases like this, it's a case of dueling accounts — a situation that Kirschenbaum relies on. Industry advocates and restaurateurs say the lawyer's M.O. is now practically a template for a financially devastating nightmare: Announce a new suit with a press release — this one (which he sent to Grub) was billed as "Explosive" — then add-on any additional plaintiffs who come forward. As things drag on, it becomes clear that the prime option for restaurateurs is often to simply settle out of court and make it go away. This brings up an adjunct issue Grub Street pointed out last year: "Are the restaurants being sued really doing anything illegal, or has Kirschenbaum identified a legal gray area that he can exploit?"
Unfortunately, it's not possible to "settle" charges of alleged racism. Ramirez, who is notoriously private to begin with, told the Post last night that he had no comment on the claims. The problem is that as a result, only one side of the story is being told — with flamboyant headlines that are sure to stick in diners' minds. (As you might expect, the Post's headline plays down the fact that these are allegations: "Chef at ritzy eatery served the worst meat to Asians: suit.")
For all we know, this might very well be the case. Then again, it might not. Ramirez shouldn't opt to sit silently while the media speculates — he needs to address these claims for the sake of both his restaurant and his own reputation.
Update: The chef sent an open letter addressing the claims to Eater, in which he denied the accounts of the former employees and wrote that he is "deeply saddened" by the lawsuit. "With great humility I write here today to ensure all who are reading this that I am not a racist and I have never been," the letter says in part. Ramirez apologized to those who were hurt reading about the allegations and added that his customers at Brooklyn Fare "are the reason I put on an apron each day to cook."
Lawsuit [PDF]
Related: Why Are New York's Chefs Afraid of This Man?