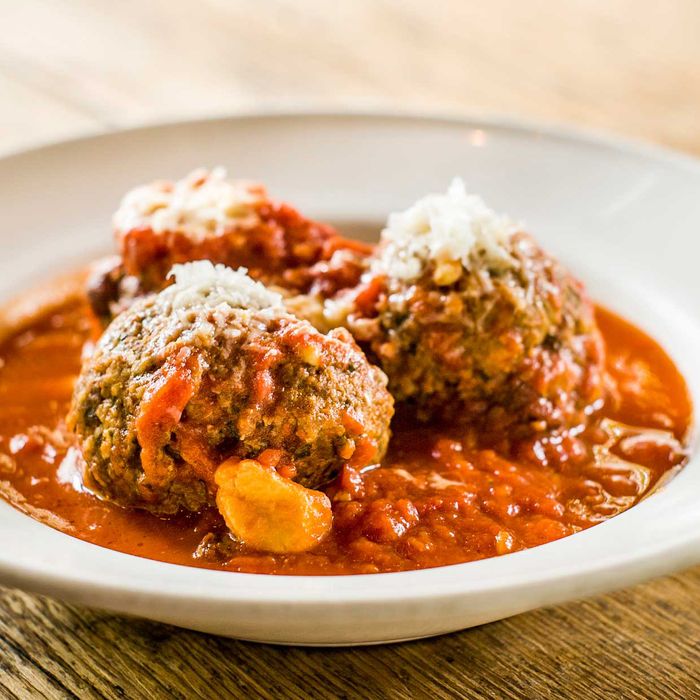 Meatballs from Frankies 457, right at your door.
Photo: Courtesy of Caviar
Caviar, which partners with many restaurants that don't traditionally offer the option,has expanded into Brooklyn. The upstart food delivery service was acquired by the mobile-payment specialists at Square in August. Caviar has a new GPS-enabled app, and has cracked open a whole new pack of restaurants and menu options, led by Carroll Gardens stalwarts Frankies 457 and Prime Meats. Mile End Deli and Motorino's Williamsburg location is onboard, as are Blue Ribbon, Caroline Fidanza's excellent sandwich shop Saltie, and Park Slope's quirky, under-the-radar fried-chicken shack Wangs. Dessert options also run the gamut from SkyIce's vegan sorbet to foie-gras ice cream.
The current delivery area includes Williamsburg, Dumbo, Downtown Brooklyn, Fort Greene, Clinton Hill, Prospect Heights, Cobble Hill, Boerum Hill, Carroll Gardens, Red Hook, Gowanus, most of Windsor Terrace, and Park Slope. Greenpoint and the farther reaches of Bushwick aren't within reaches of Caviar's delivery people. Neither is Crown Heights, much of Bed-Stuy, Sunset Park, Prospect-Lefferts Gardens, and, well, everything flanking Prospect Park and straight down Ocean Parkway to Coney Island.
Here's the full lineup. Not all of these restaurants are live on the site right now, or, "available," due to varying hours of operation, but it's a formidable collection. Expect even more establishments to join the roster in the weeks ahead.
Bar Corvo
Bark
Blue Ribbon Brasserie
BrisketTown
Brucie
Café Habana Outpost
Char No. 4
Colonia Verde
Court Street Grocers
Frankies 457
Kolache Brooklyn
Lincoln Station
Luke's Lobster Brooklyn
Meltkraft
Mile End Deli
Motorino
No. 7 Restaurant
OddFellows Ice Cream Brooklyn
Prime Meats
Puerto Viejo
Saltie
Shelsky's
SkyIce
Wangs
To commemorate the launch, the company is also running a five-day promotion, where each day one item from a selected Brooklyn establishment will go for $1. Caviar is also waiving its delivery fees for the launch.
[Official site]
Related: Square Acquires Food-Delivery Company Caviar