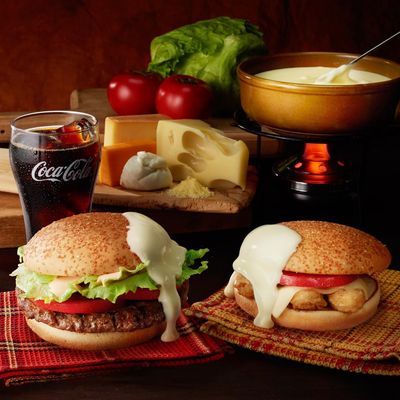 A dab'll do ya.
Photo: Burger King Japan
The hamburger giant is betting customers are going to want to ring in the Japanese New Year with a Beef Fondue or Chicken Fondue sandwich from their local participating outlets. That's what Burger King is foisting on the public on January 1, anyhow, after all the Berry Kristmushes are gone. Granted those cheese splats didn't glom themselves on, but you'll be sorely, sorely disappointed if you expect the fondue, which includes a "touch of white wine," to come in a pot atop a burner — it's just a condiment tub.
And if you thought that black hamburger looked pretty bad in real life, you probably already know where this one is going. Here are a few customer shots from when the fondue burger launched in Korea earlier this year.
치즈퐁듀와퍼 존ㅡ맛ㅡ 손님 왈 평범한 와퍼와 평범한 감튀와 비범한 소스가 만났다 하더이다 버거킹 카톡친구 꼭하세요 단품->세트 교환쿠폰 받으면 5900원ㅇㅅㅇ!! pic.twitter.com/Qkt51lFtG3— 캇초❄ (@katnim_) July 11, 2014

버거킹 치즈퐁듀와퍼….맛있긴한데……음….뭐랄까 그닥치즈빼고는 특징이없달까… pic.twitter.com/fOOpBFfrWt— 딸기동자 (@bitna520) July 13, 2014

버거킹 신작인 치즈퐁듀와퍼다. 그냥 와퍼에 퐁듀 하나 추가해준건데… 이게 좀 꿀맛이네. 퐁듀가 차가워서 뭐냐고 욕좀 해 주려고 했건만, 그 자체가 맛있더라고, 비주얼은 별로지만. 뭐, 한입 먹을래? #점심 pic.twitter.com/TLSOnyS3sV— 사쿠라 쿄코 (@Kyoko_meal) July 11, 2014

버거킹먹구싶당. 이제 출근준비안하면 늦눈다 치즈퐁듀와퍼는 생각보다 별로였다. 교정하고 먹기에는 무지 불편…아니 교정이 아니더라도 먹기 불편하다눈거… pic.twitter.com/2jtwnFeKE6— 올언니의 뽀뽀를 받은 수줍은 김코굼 (@kogumi93) August 6, 2014

Related: Burger King Japan's Black Burgers Are Even Worse in Real Life
[Burger Business]