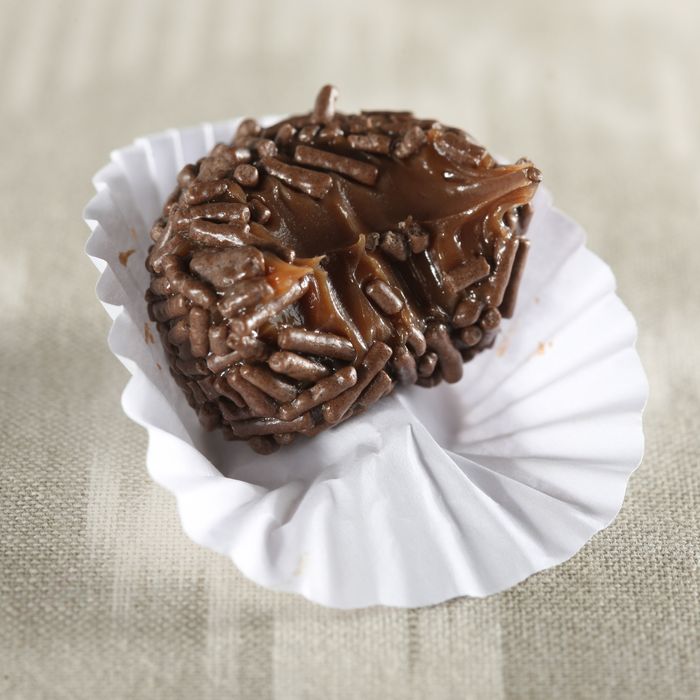 Condensed milk, butter, and chocolate.
Photo: Melissa Hom
The brigadeiro — a traditional Brazilian dessert — is a cross between fudge, caramel, and a chocolate truffle. Condensed milk gets cooked down with cocoa powder, cooled, hand-rolled with butter into little balls, and then topped with sprinkles, nuts, or crushed cookies. The result is soft, chewy, and dense, but since it's so small, it makes for the perfect light dessert. (That is, if you can stop yourself after just one or two, which is easier said than done.) Until now, the confection has flown under the radar in New York, but with the imminent opening of Brigadeiro Bakery's first brick-and-mortar shop in Soho, it's poised for its big break.
Chef Mariana Vieira is a native of Brazil who moved to New York just five years ago. She's been quietly making and selling her brigadeiros out of the basement of Cómodo for two years, and building her business. "I had just graduated from culinary school in Brazil," she says. "I got married and I moved to New York, and I was like, 'What should I do? La, la, la.'" When Vieira started working as a personal chef, she wanted to serve something at the end of the meal to identify herself — "something that was Brazilian, sweet, and that reminded me of childhood."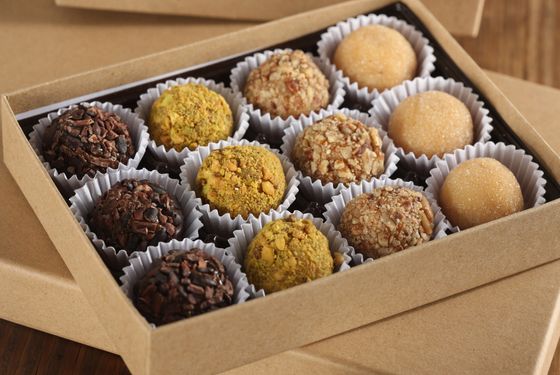 Brigadeiros became Vieira's signature. Eventually she met Cómodo co-owner Felipe Donnelly at one of his dinner parties, and when Donnelly learned Vieira was cooking from her home twelve hours a week and couldn't afford a commercial kitchen, he suggested a barter: She could use his empty basement, if she paid rent in brigadeiros. (Each Cómodo guest receives a complimentary chocolate brigadeiro at the end of the meal.)
In the two-plus years since the deal was struck, the concept caught on via word of mouth, and Vieira and her partners, Mariana Memoria and Marcelo Reali, now ship chilled brigadeiros all over the country. (If you refrigerate them, they'll last a week.) And now she finally has the resources to open her first store, while she'll serve extra-fresh brigadeiros in a total of 17 flavors, as well as coffee, Brazilian cakes, savory pies, and salads. They're still putting the finishing touches on the shop, but they're aiming to open it this weekend.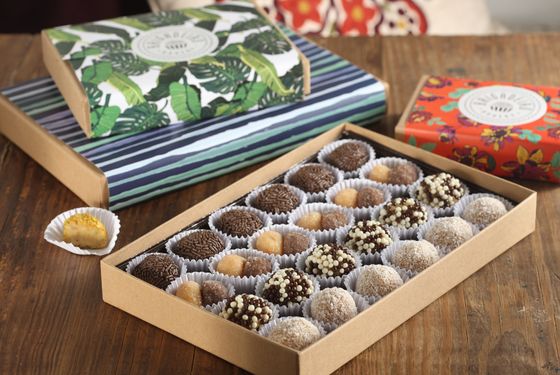 Boxes aren't exactly cheap — six pieces will run you $14 — but Vieira cares about every little detail, down to the colorful, festive packaging. In other words, they're excellent holiday presents. "It was a big learning process," Vieira says. "But I think is as close as you can get to the real Brazilian thing."
Brigadeiro Bakery, 156 Sullivan St., 917-740-5772