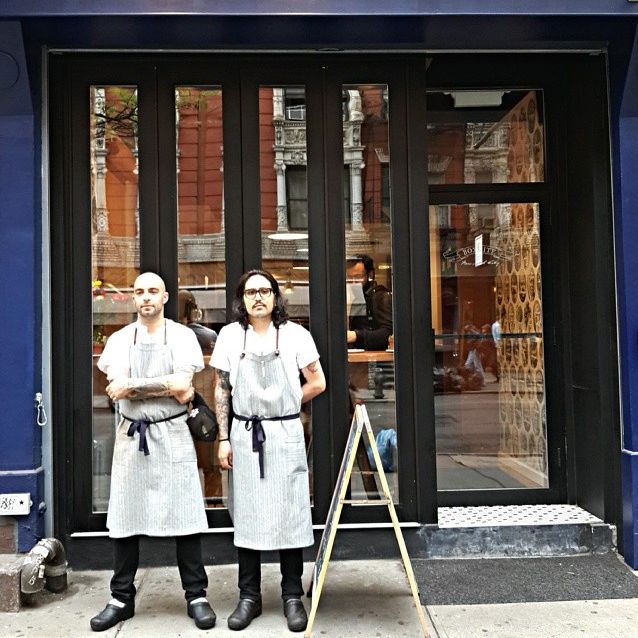 More elbow room.
Photo: Courtesy of Box Kite
This year, great food has popped up in some strange places: There's a chef-driven doughnut shop at the Westside Highway Car Wash, a baguette bakery in an office-building lobby, and a bone-broth takeout window attached to a James Beard-nominated restaurant. But perhaps the most peculiar setup was a critically acclaimed tasting menu served inside a 300-square-foot St. Marks Place coffee shop.
Box Kite initially hired chefs Justin Slojkowski and Dave Gulino, who had worked together at Roberta's and Acme, to design a simple food program for the coffee shop — which could only accommodate 12 guests per night. But, of course, they decided to do something much more ambitious. Inside an eight-by-eight-foot kitchen, with just a few induction burners and a toaster oven, they prepared dishes like arctic char with shavings of foie gras, and goat's-milk caramels topped with sea-buckthorn gel. They've since ended their tenure at Box Kite, but it gave them a major platform, as well as a contract to open their first stand-alone restaurant.
The tight-knit space enabled (or rather, forced) the chefs to talk to customers and hand them food directly, and one night, Slojkowski and met Gulino met designer Demian Repucci. He had just signed a lease on a space in the East Village, with dreams to turn it into a modern American riff on a Neapolitan pizza place, utilizing primarily domestic ingredients. The three men hit it off, and Repucci decided to hire them as executive chefs of his new concept, called Bruno Pizza. The restaurant, set to open in February at 204 East 13th Street, will offer much more elbow room: It accommodates 58 diners — and 20 seats offer a direct view of the open kitchen, preserving the original spirit and sense of intimacy found at Box Kite.
Earlier: Box Kite's Critical-Darling Chefs Will Serve Their Last Tasting Menu on September 20