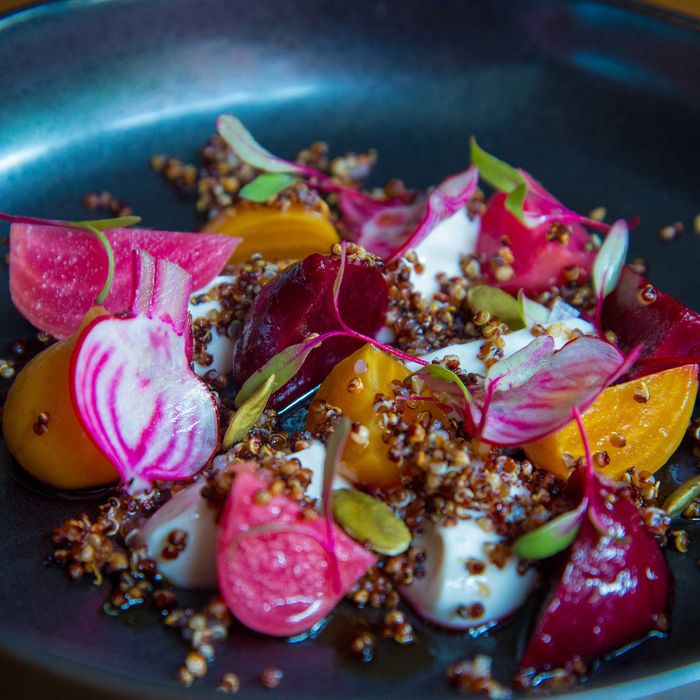 Beets with fried quinoa at Tuome.
Photo: Courtesy of Tuome
Beets warrant some extreme opinions: People absolutely love them — "nature's candy" — or can't stand them. People in the latter camp are, of course, misguided, and this time of year, when fresh produce pickings are slim, you're better off getting onboard with beets — which lend themselves to all sorts of interesting preparations beyond the standard goat-cheese pairing. Right now, there's beet-infused risotto at Little Park, beets with white chocolate at Upland, and even a beet-based ketchup. These dishes will turn even the haters into — wait for it — beetlievers:
Marinated Beets
Where: The NoMad
Price: Part of the $29 lunch menu
This light vegetarian dish — with quinoa, yogurt, and cumin — is part of the restaurant's new prix fixe menu. Follow it up with the most luxurious chicken burger ever.
Torpedo Beets
Where: Upland
Price: $13
One of Justin Smillie's surprise hits is this starter, with robiola cheese, white chocolate, and seeds. (And get the fried mushroom, too.)
Yellow Beets
Where: Take Root
Price: Part of the $105 tasting menu
At this teeny-tiny gem of a restaurant, you'll currently find an appetizer of yellow beets, kumquat, and hickory-smoked hen yolk.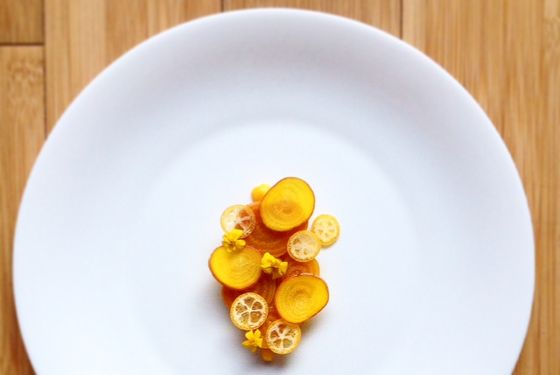 Beet-Cooked Farro Salad
Where: King Bee
Price: $12
At this new "Acadian-inspired" East Village restaurant, chef Jeremie Tomczak pickles beets and mixes them with mirliton squash, lettuce, and buttermilk vinaigrette.
The Colonie Burger
Where: Colonie
Price: $18
Grub feels very strongly about Heinz, but it's worth seeing how housemade beet ketchup tastes atop a grass-fed burger, which also comes with Cheddar, bacon, and a fried duck egg.
Roasted Beets
Where: Annisa
Price: $16
Anita Lo roasts various types and colors of beets, tosses them in lemon oil and selim pepper from Senegal, and serves them on a puree of roasted cashews. Garnishes include cocoa nibs, a drizzle of scallion oil, shaved raw candy-cane, and red and yellow beets.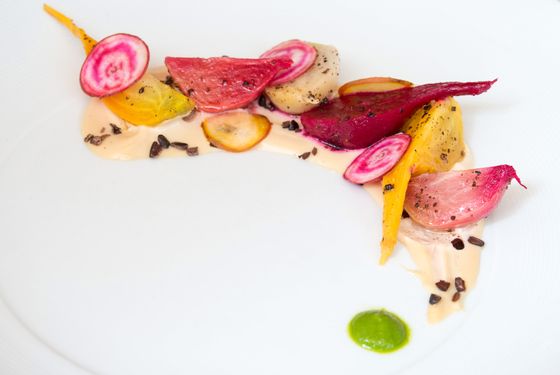 Beets With Fried Quinoa
Where: Tuome
Price: $12
This critically acclaimed restaurant serves a dish of roasted and beets with five-spice, yogurt, and pumpkin seeds. Plus: There's both steamed and fried quinoa, to add a little texture.
Roasted Beets a la Plancha
Where: Toro
Price: $9
Chef Jamie Bissonnette makes red and yellow beets all nice and crispy, and pairs them with tangy labne, breadcrumbs, and salsa verde.
Grilled Beets
Where: The Little Beet Table
Price: $13
Everything on the menu at this new sit-down restaurant — an extension of Little Beet — happens to be gluten-free. This dish comes with Greek yogurt and pumpkin-seed-almond granola.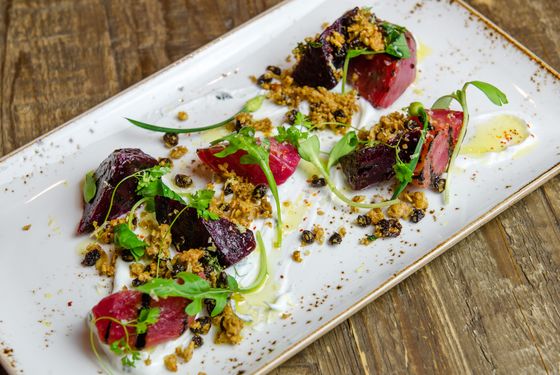 Beetroot Risotto
Where: Little Park
Price: $15
Don't leave Andrew Carmellini's newest restaurant without ordering this risotto — with tangy cheese and poppy-seeds — or the beetroot tartare, which includes smoked trout roe, rye, and horseradish.
Beet-Pickled Eggs
Where: El Rey
Price: $2
For just $2, you can order a beet-pickled egg as a snack — but it's even better when added to the kale salad. Chef Gerardo Gonzalez also offers a recurring special of beet borscht, which is super warm and comforting.
Beet Hummus
Where: Victory Garden
Price: $12
The seasonally driven market platter now includes beet hummus — as well as celery root, sweet potatoes, roasted beets, and kale. It's the perfect healthy lunch.