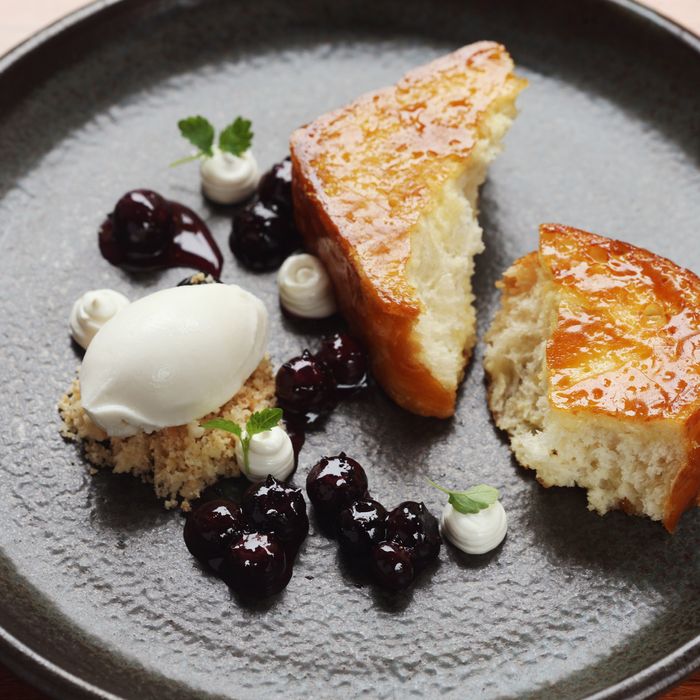 Caramelized milk bread: Bâtard's showstopper dessert.
Photo: Melissa Hom
The New York critics' year-end wrap-ups are all in — including the just-dropped "Where to Eat" opus from New York's Adam Platt — and the consensus winner is Bâtard, the small, high-grade Tribeca spot from Drew Nieporent, chef Markus Glocker, and partner John Winterman that opened in May to nearly unanimous raves.
The restaurant tops not only Platt's list of the year's best new restaurants, but he also includes Glocker among his list of the year's most impressive chefs. The restaurant itself also tops the list from Times critic Pete Wells and Amelia Lester's "Five of the Finest" edition of Tables for Two at The New Yorker. Observer critic (and occasional Grub contributor) Joshua David Stein similarly named it as the year's best new high-end spot. And while Eater's Ryan Sutton includes it in his own wrap-up, he calls it "a venue that's more affordable and comfortable than it is exciting."
Yet Sutton's comment touches on what the other critics seem to love most: the combination of elegance — still a rarity as more and more ramen shops arrive in town — and a relatively affordable prix fixe menu that showcases Glocker's flawless technique. (The much-praised "caramelized milk bread" dessert alone seems to warrant two stars.)
The interesting thing is that there wasn't a lot of consensus about which other restaurants should end up on these lists. Platt gives shout-outs to, among other spots, Shuko ("the best omakase menu of the New Year"); Wells highlights the Simone ("easily the year's least trendy restaurant … [but] the Simone's retro ideas aren't stale"); and Lester joins the growing fan base for Contra on the Lower East Side — a sentiment echoed by Sutton. A few Power Rankings staples, like Ivan Ramen, Cherche Midi, and Marta, all pop up across the lists as well.
In a way, Bâtard's appointment atop the lists speaks to one of the bigger restaurant story lines of 2014: the success of revamps and upgrades. Whether they were existing ideas that found bigger stages, or actual spaces gutted and renovated by their owners, reinvention was a strong theme this year. Bâtard is the latest restaurant in the Corton-Montrachet space; the Mu Ramen pop-up became Mu Ramen proper; Cherche Midi is, of course, Keith McNally's redo of Pulino's; Chez Jose gave way to Semilla; Momofuku Ko 2.0 is even more impressive than the original; and though it's too new to qualify for year-end lists, the new, more palatial iteration of Mission Chinese Food is a major improvement over the place's former digs — though its lack of inclusion in these lists doesn't seem to be hurting business so far.