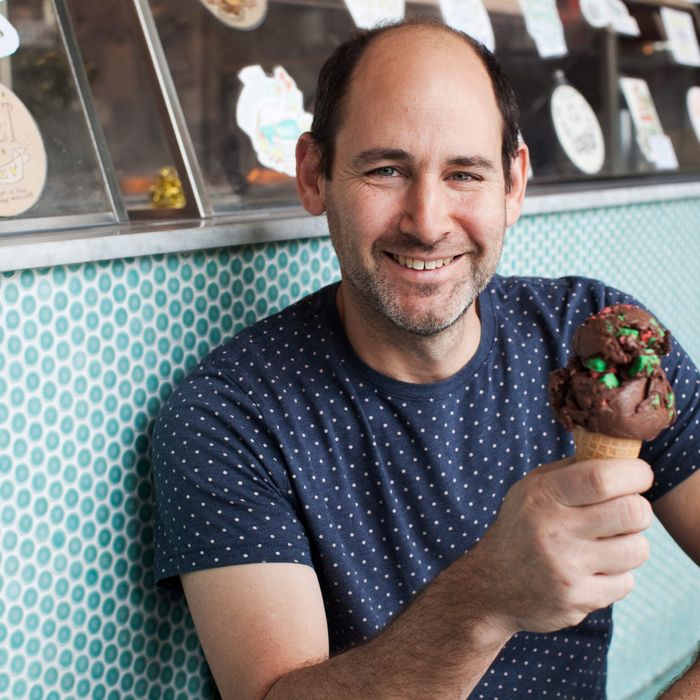 Owner Brian Smith.
Photo: Melissa Hom
One week before Brian Smith opened Ample Hills Creamery's shop in the summer of 2011, he operated a commercial ice-cream-maker for the first time ever. "I had no culinary background," Smith says. "I was completely self-trained, but it's not rocket science!" But four days after the launch, Smith had to close the Prospect Heights store for over a week just to catch up with the shockingly high demand. Now, a little over three years later, Ample Hills is as wildly popular as ever. So, in 2014, Smith and his wife, Jackie Cuscuna, opened a 3,600-square-foot parlor in Gowanus, published a cookbook, started delivering pints all around the country, and announced plans for their first Manhattan outpost in Gotham West Market.
This success wasn't necessarily a given. Smith previously worked as a science-fiction screenwriter and director of high-profile audiobooks, like President Obama's. "I wanted to do something that was creative, hands-on, and social — not lonely like writing," he says. "I always had a passion for ice cream." But, realizing there was already plenty of good ice cream in New York, Smith knew he needed to find his own niche. So he decided to make kooky, playful flavors filled with mix-ins like butter cake, Ritz crackers, and honeycomb candy. "A Rice Krispies treat is not a culinary wonder, but when you turn it into an ice-cream flavor — marshmallow ice cream with Rice Krispies that we toast in the oven with butter and sugar — something happens, and it transports you."
"It's similar to writing monster movies," he continues. "You borrow a head from this creature, a tail from that creature, and you try to create your own spin. But there's nothing you're going to do that is completely original and never been, in some way, shape, or form, conceived of before."
That might be even truer today than it was when Smith started. Since Ample Hills opened in 2011, New York's ice-cream landscape has transformed considerably. Now there's Morgenstern's, Davey's, OddFellows, Hay Rosie … the list goes on. Smith isn't too worried about the increased competition, though. "We take our craft seriously, but we don't make serious ice cream," he says — perhaps a passing reference to other shops' more straight-faced approach.
In fact, Smith says the growth of his company is necessary to make the financial structure work. "Ice cream is a volume business, so it costs us a lot of money to make ice cream," Smith says. "It is a costly and labor-intensive process that requires us to sell a lot of it. We've been fortunate because people have responded to it and stand in lines. But if it was just a little neighborhood place, it wouldn't be able to support that level of commitment."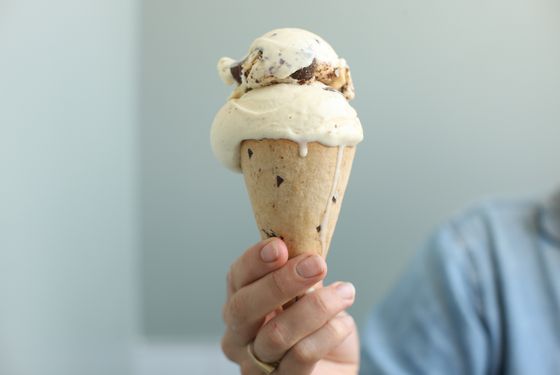 That doesn't mean he's interested in wide national expansion just yet. Smith's business model is more like Blue Bottle's: Focus on continuing to hand-make ice cream on site; open unique shops that feel authentic to their neighborhoods; offer good service (unlimited samples!); and make everything feel as local and personal as possible. "I'm excited by the challenge of how you take this thing that's very much of a neighborhood, and very much a local product, and grow it out and expand it from there," he says. "There's nothing about Blue Bottle that is fast. Their entire process is designed to be slow. And I think that's fascinating."
In that case, what is next? Smith is currently looking at opportunities in other New York neighborhoods — and other states — but his ultimate goal is not to get his pints into every Whole Foods in America (the model followed by Ben & Jerry's, and more recently, Van Leeuwen). "It severs the authenticity of the experience somebody has when they walk into one of our shops," he says. Instead, he ultimately hopes to own his own dairy farm in upstate New York, so he can make his milk and cream, and not just his base, from scratch.
But for now, Smith is focusing on getting through the winter — when business slows down, naturally — and building out the 9-by-15-feet space inside Gotham West Market, which is set to open at the end of January. "I figured if I could go there and have Ivan Ramen every day, it was worth doing," he says of the decision. "It's a low-impact way for us to enter Manhattan and test things out."
If it works, then it's only reasonable to expect more Ample Hills locations around New York. "It's real important to us that there's some experiential component to that process of getting ice cream," Smith says. "Getting good ice cream is too easy. Getting great ice cream — I want that to be an experience."
Earlier: Ample Hills' Brian Smith Explains Their 'It Came From Gowanus' Ice Cream