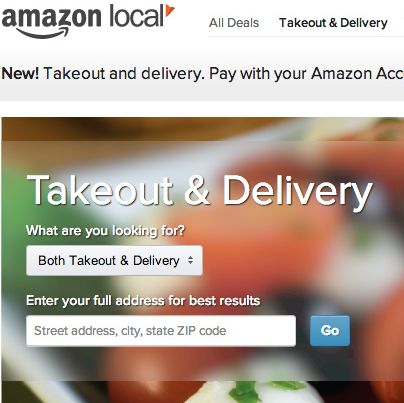 One-click meal shopping.
Photo: Courtesy of Amazon Local
The first few details indicating Amazon had some sort of mystery food-delivery program in the works circulated over the summer, and last weekend the retailer giant quietly launched the service in Seattle while everyone was still zoned out on cranberry sauce and tryptophan. So far, the would-be rival to companies like Caviar doesn't even have a special name, it just populates on the Amazon Local page or app for people in the metropolitan area.
Nonetheless, just over 100 partner restaurants are signed on; delivery ranges vary, as expected, by location in the city. Food goes into your cart, and you of course charge the meal to your Amazon account. It still has kinks to be worked out, for sure — there's no way to sort by cuisine or search all of the menus at once, for example, so better build in time to guess and check whether you're craving yucca fries with your burger.
In other words, it's too early to say whether the Bezos industrial complex sees this as a GrubHub-Seamless killer. A spokesperson said back in June that the plan was a "very gradual expansion unless things go gangbusters," meaning it would probably stay West Coast regional at first, though TechCrunch added even then that there were rumors Amazon was eyeing other delivery start-ups like workplace-lunch curator Peach. Another thing to consider: The perpetual promise (or threat) of food-delivery drones may be sounding like a broken record these days, but if anyone's going to be airlifting your pizza in the future, Amazon may be a real possibility.