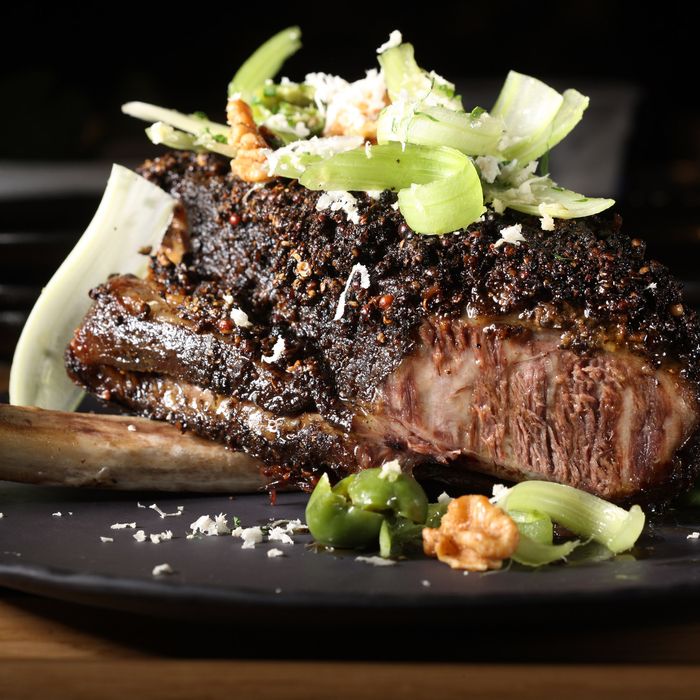 Look familiar?
Photo: Melissa Hom
Chef Justin Smillie recently left Il Buco Alimentari to open Upland, which has quickly turned into one of New York's newest blockbusters. The "California-inspired" spot, owned by Stephen Starr, already boasts a steady stream of customers, great word-of-mouth, and an extensive menu of thoughtful, well-executed food — like chicken-liver pasta, 'nduja-and-straciatella pizza, and, most notable, a hulking plate of roasted short ribs for two. In fact, you might recognize the latter, because Smillie created the dish while at Il Buco Alimentari, where it's still on the menu. In fact, right now, both restaurants are serving the exact same version: bone-in ribs garnished with Castelvetrano olives, walnuts, celery, and fresh horseradish, for $59.

The more short ribs there are in this world, the better, obviously, but the unusual predicament — a justifiably famous, instantly recognizable dish being served at two different restaurants from two different proprietors — still raises the question: When a chef leaves a restaurant, who really retains possession of the dishes she or he created while there?
Over the years, there have been numerous fights and lawsuits over who "owns" a recipe (Pearl Oyster Bar versus Ed's Lobster Bar regarding Caesar salad; Bar Pitti versus Da Silvano over meatballs). But in the case of the short ribs, even Smillie admits the situation is different. "It's a little weird that it's still on the Il Buco menu," the chef says. "But it's something that I did there, and if they want to keep doing it, that's their prerogative."
Il Buco Alimentari owner Donna Lennard sees it another way — in fact, she says she was surprised when she saw the ribs on Upland's menu. "I thought it was unfortunate," she tells Grub. "More for him than for us, honestly … I think if you make a dish for the restaurant, it becomes part of the restaurant." But, she adds, "If a chef really is connected to a dish, should they be able to serve it? Sure, why not?"
Legally speaking, there is no right or wrong answer. Where food is concerned, patents and copyright laws don't apply to what's served at restaurants, as Pete Wells once explained in Food & Wine:
Copyright law protects "original works of authorship fixed in any tangible medium of expression." [Grant] Achatz's dishes are original and tangible, so they ought to be eligible for copyright, but the law specifically excludes ingredient lists and recipes. A cookbook can be copyrighted — but as a literary work, not a culinary one. Fergus Henderson could sue me if I nabbed his fetching description of roasted marrowbones from The Whole Beast, but if I opened a marrow-themed restaurant and served his recipes every night, he'd be powerless to stop me.
But Smillie isn't stealing someone else's idea. He's just serving a dish that he created while working at another restaurant, which subsequently became associated with that restaurant. Even if it isn't theft, though, it behooves the owner of the original restaurant to keep a beloved dish unique to a dining room. "I don't set up contracts with my chefs, necessarily — and maybe, I should," Lennard says. "There could be a disclaimer that prevents a chef from ever serving anything that he or she did in your restaurant. That's kind of the unwritten rule. But I don't like to get bothered with that, because I feel like people do the right thing."
Many chefs, though, see it another way. They should be able to lay claim to their creations. That's why, as White Street chef (and North End Grill and Tabla alum) Floyd Cardoz notes, chefs prefer to publish cookbooks under their own names — not the names of the restaurants they happen to work at, in that moment in time. "In my case, being that I am well established and I have cookbooks and recipes that are published under my name, I technically could take whatever I wanted from North End Grill," he says. "That's why chefs are very not keen on doing restaurant books that are not branded with their own names. This way, it gives both the restaurant and the chef the option to use the recipes as they please."
Jonathan Waxman has probably figured out the easiest way to eliminate any confusion: Just put your name on the dish. (In his case, the "JW chicken" he currently serves at Barbuto in New York, Adele's in Nashville, and Montecito in Toronto.) But he once found himself in a similar predicament with a different recipe. "There was a dish I did at Michael's, way back in the day in 1980 — a wild-mushroom salad," he says. "Michael kept it on the menu for 20 years. I thought it was cool that he kept it on. It's a testament to how much he appreciated having it and how much the customers liked it. And I put it on the menu of my next restaurant, Jams. I think the more, the merrier."
"But at one point, I got sick of that wild mushroom salad, and I never served it again," Waxman continues. "And so did Michael. We all got sick of it. So who gives a shit, you know? If one dish makes a chef, or a restaurant, that's not a good thing, either. Unless it's Serendipity's frozen hot chocolate."
Smillie says that it wasn't even his original intention to serve the short ribs at Upland (it's a particularly labor-intensive dish — and he goes through 1,000 pounds of ribs per week). But he changed his mind when he started seeing similar preparations pop up at other places. "They're doing incarnations of my short ribs at All'onda, Dirty French, and Marta," Smillie says. "I'm like, 'Well, if you're doing it, I'm definitely doing it now!' And, look, the dish has meant a lot for my career … So I have to give it due props."
But the real question is, do diners even notice, or care? At Upland, some people will probably recognize the short ribs, but won't worry about who lays rightful claim to the dish itself as soon as they bite into the tender, deeply flavorful meat — which tastes as good at the new restaurant as it does at Il Buco Alimentari. And if Smillie opens another restaurant down the road, the rib dish might pop up there, too. In fact, he says he doubts he'll be able to shake it: "For better or worse, I think I'm associated with that dish forever."
Earlier: What to Eat at Upland, the 'California-Inspired' Knockout Opening Tomorrow