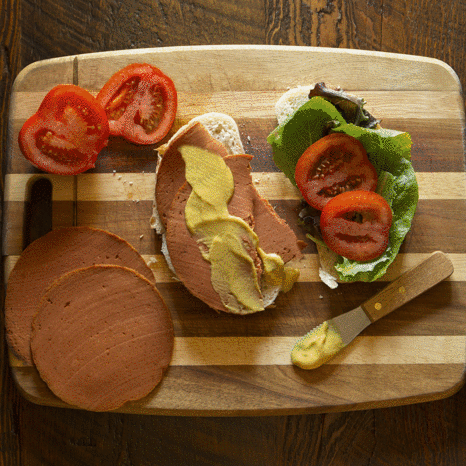 This bologna's name is T-O-F-U.
Photo: The Herbivorous Butcher/Kickstarter
Not long ago, the concept of a butcher shop overstuffed with piles of completely vegan "meat" would have seemed downright preposterous, but that was a time before eggless mayo was a threat to Hellmann's and veggie burgers bled. Now sister-and-brother team Aubry and Kale Walch — not this dude named Kale, we think — are ready to expand from an overrun table at the Minneapolis Farmers' Market into the world's first vegan meat shop after hitting their $50,000 Kickstarter goal.
Once they open in April, everything will be "just like in a typical butcher shop," with a cold case of ribs, jerky, pepperoni, bologna, and Italian sausage, a rotating special that might be chorizo or Andouille sausage, plus vegan cheeses, breads, and marinades. Their crowd-funding campaign, which Kickstarter made a Staff Pick, just set an additional $10,000 stretch goal to buy a few more commercial-grade appliances that will help them ship nationwide, meaning soon enough, Grandma can sub tofu bologna for that HoneyBaked ham she always sends you. This video is pretty funny.
[Kickstarter, KMSP]